We found out that Tekkaman Blade is being added to the new "version" of Tatsunoko vs. Capcom through Famitsu yesterday. But it looks like the other three characters have been leaked, too. Capcom opened a website for Ultimate All-Stars, and the code lists what appears to be the rest of the unannounced characters. The filenames discovered are oncharactor_btn_zero.jpg, oncharactor_btn_frank.jpg, oncharactor_btn_joe.jpg, and oncharactor_btn_tekkabla.jpg. In order, those names would most likely turn out to be Mega Man Zero, Frank West, Condor Joe, and Tekkaman Blade (which we know about already). It won't be long before Capcom officially reveals the characters though, as TGS is just a few weeks away.

London (10th September 2009) – Square Enix Ltd., the publisher of Square Enix® interactive entertainment products in Europe and other PAL territories, today announces that SPACE INVADERS EXTREME™ 2 a brand new release from TAITO®, based on the classic video game franchise be released across PAL territories on 2nd October for Nintendo DS™.

SPACE INVADERS EXTREME 2 follows in the footsteps of last year's critically acclaimed SPACE INVADERS EXTREME, which was regarded by many as the best remake of the original classic. This year the iconic Invaders are back again and this time the action is even more extreme! The game combines the essence of the original game with a stunning alliance of futuristic graphic design and cutting-edge audio, overhauled gameplay and a whole new range of amazing power-ups.

Famitsu has published their estimates of the latest hardware sales figures from Japan. Keep in mind that Media Create numbers are considered to be more official data in some ways, and will be posted tomorrow.
PS3?151,000
DSi?59,000
PSP?23,000
Wii?18,000
DS Lite – 5,600
Xbox 360?4,600
PS2?3,700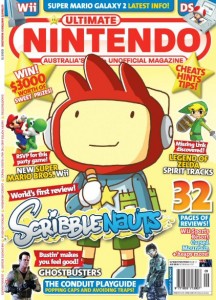 Although Scribblenauts will undoubtedly provide countless hours of entertainment, many gamers are wondering how enjoyable the game actually is. Well, there's at least one publication that believes it's practically perfect. Ultimate Nintendo Magazine published the first review of Scribblenauts in its latest issue and awarded the game a perfect ten.
The title was praised for having the ability to "capture the attention of any person and have them experience an instant sense of delight," its easy-to-use controls, addictiveness, creativity, and replayability. The magazine did manage to find some minor faults, however. Stylus-only controls can be slightly problematic in tight spaces and the numbers of objects allowed in a level can occasionally be limiting. Still though, it's clear that the editor enjoyed the game and went as far as to say that "if you buy this game and cannot get some pure enjoyment out of it, there is something medically wrong with your brain."



WiiWare
1 (1) – Reel Fishing Challenge
2 (2) – My Aquarium
3 (N) – Contra Rebirth
4 (3) – World of Goo
5 (13) – Tales of Monkey Island – Chapter 2
6 (5) – Tetris Party
7 (4) – My Pokemon Ranch
8 (6) – Final Fantasy IV: The After Years
9 (7) – Texas Hold'em Tournament
10 (8) – Sexy Poker
11 (9) – Family Slot Car Racing
12 (11) – Dr. Mario Online Rx
13 (10) – Tales of Monkey Island – Chapter 1
14 (14) – Family Mini Golf
15 (16) – Defend your Castle
16 (12) – NyxQuest: Kindred Spirits
17 (18) – Brain Challenge
18 (15) – Water Warfare
19 (17) – Final Fantasy Crystal Chronicles: My Life as a Dark Lord
20 (19) – Bust-A-Move Plus!
VC
1 (1) – Super Mario Bros. 3
2 (2) – Super Mario Bros.
3 (3) – Super Mario World
4 (4) – Super Mario Bros. 2
5 (5) – Super Mario 64
6 (6) – The Legend of Zelda: Majora's Mask
7 (7) – The Legend of Zelda
8 (10) – Mario Kart 64
9 (8) – Punch-Out!!
10 (9) – The Legend of Zelda: Ocarina of Time
11 (12) – Pac-Man
12 (11) – Donkey Kong Country
13 (13) – Super Empire Strikes Back
14 (15) – Super Mario RPG: Legend of the Seven Stars
15 (16) – Donkey Kong
16 (17) – Paper Mario
17 (18) – Sonic the Hedgehog 2
18 (19) – The Legend of Zelda: A Link to the Past
19 (14) – Super Star Wars
20 (20) – Galaga
DSiWare
1 (1) – Flipnote Studio
2 (2) – Nintendo DSi Browser
3 (4) – Mario vs. Donkey Kong: Minis March Again!
4 (3) – Guitar Rock Tock
5 (5) – Paper Airplane Chase
6 (6) – Asphalt 4: Elite Racing
7 (7) – Pop+ Solo
8 (8) – Bird & Beans
9 (9) – WarioWare: Snapped!
10 (18) – Puzzle League Express
11 (10) – Dr. Mario Express
12 (11) – Master of Illusion Express: Deep Psyche
13 (12) – Mario Calculator
14 (13) – Mario Clock
15 (14) – Sudoku Student
16 (17) – Art Style: Boxlife
17 (15) – Photo Clock
18 (16) – Art Style: precipice
19 (N/A) – Master of Illusion Express: Funny Face
20 (20) – Clubhouse Games Express: Card Classics

This is what a SEGA spokesperson had to say when asked if Project Needlemouse will be released for Wii…
"It's called Project Needlemouse and we'll have more information at a later date."
The statements made to GameSpot about the game being in HD certainly made it seem as though the game will only be for the PS3/360. However, since SEGA isn't truly commenting on the situation, we'll have to wait and see if a Wii version is in the works.


Cooking Mama 3 Release Date Unveiled
Milton Keynes, 9th September – 505 Games today announced that for the very first time everyone's favourite celebrity chef will return to the kitchen in time for the festive season, bringing three new game modes with her.

For the first time ever Mama will be filling Christmas stockings with her fabulous brand of culinary creations as Cooking Mama 3 hits stores from 13th November. Fans of the world famous kitchen antics will be able to get their hands on the next chapter in Mama's recipe book earlier than ever and take delight in cooking up a storm exclusively on the Nintendo DS™ while the rest of the family slave over Christmas lunch!