Take Aim for the Top Online Leaderboards Score in this Instant Classic Arcade-Style Shooter

El Segundo, Calif. – March 16, 2009 – Konami Digital Entertainment, Inc., announced today that Gradius ReBirth™, the latest entry into the Gradius game franchise, is now available for download on WiiWare™. Making its original debut in arcades in 1985, the Gradius franchise is reborn in this latest addition to the arcade classic franchise. Gradius ReBirth enables players to blast their way through many levels full of alien space ships and other space creatures in this action packed side scrolling shooter.

Gradius ReBirth features a robust arsenal of upgradable space-aged weaponry that will aid players in their challenging missions to defeat the alien hordes. Watch out for the epic boss battles as they will test your shooting skills in classic, retro arcade style. Players will be able to post their high scores to worldwide leaderboards and see where they rank against all the other Gradius ReBirth players.

U.S. District Court Judge Says No Need for Jury Trial

REDMOND, Wash.–(BUSINESS WIRE)– A U.S. District Court judge has summarily dismissed a patent-infringement lawsuit against Nintendo brought by Fenner Investments Ltd. Fenner had alleged that the Wii™ console and its controllers, as well as the Nintendo GameCube™, infringed on one of its patents (U.S. Patent No. 6,297,751). Judge Leonard Davis of the U.S. District Court in Tyler, Texas, dismissed the case on Monday, and ruled that there was no need for a jury trial.

"We are very pleased with the court's decision," said Rick Flamm, Nintendo of America's Senior Vice President, Legal & General Counsel. "Nintendo has a long history of developing innovative products while respecting the intellectual property rights of others. We also vigorously defend patent lawsuits when we firmly believe that we have not infringed another party's patent, despite the risks that this policy entails. I would like to express our sincere appreciation for the tireless efforts of our legal team, which represented us so well."


– Will have Stasis, Telekinesis, Strategic Dismemberment, and Zero-G
– Want to create new experience that feels built for Wii
– Lexine in her early 20s, introduced to her early in the game
"To use Stasis the player will point their Wii Remote at an approaching enemy or object then hit the Stasis button to fire the Stasis projectile at the threat. Dismemberment works as you would expect, aim your Wii Remote at an enemies limb and fire, pop goes the Necromorph."
– Arc Welder a new weapon – fires bolt of energy – arc's between enemies, causes more damage based on how many enemies it hits
– Will be as bloody and gory as first Dead Space game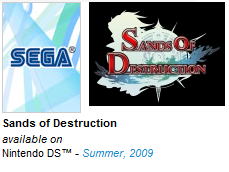 When we last heard about SEGA's Sands of Destruction, the game was on track to release this fall in North America. However, the official page for the game seems to indicate that it will ship in summer instead. SEGA has not cleared up the confusion, but it would probably be best to rely on the official game page for now.

Following the success of Pop™ on WiiWare™ as well as the iPhone® and iPod Touch® Nnooo are pleased to announce the development of their first DSiWare™ title Pop Plus: Solo™.

Pop Plus: Solo includes not only all the great modes from the WiiWare and iPhone versions; Training, Normal, Advanced, Chill, Bonus Mode and Timed Mode; it also includes two brand new modes, Adventure and Challenges as well as two new bonus rounds and many new badges to collect.



Well…That was annoying. Site was down for a half hour or so. It wasn't a problem with us directly…It was actually our host that was having issues (surprise!). Everything's fine though – nothing was lost, and I'm not expecting any more trouble again. Apologies for the short downtime!