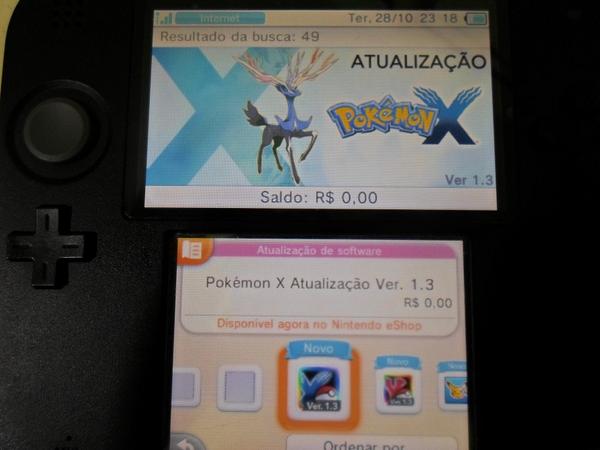 Pokemon X and Pokemon Y received a new update today, bringing the games up to version 1.3. You'll need to head on over to the eShop for the patch.
Nintendo says version 1.3 includes "general bug fixes". The update also features adjustments to make for "a more fun gaming experience".
Today's update will need to be applied before using the online features below:
– Connecting to the Internet using the Player Search System
– Using Wonder Trade
– Using Game Sync
– Connecting to the Global Trade Station Mystery Gift
Thanks to dkaleo82 and DavidTendo for the tip.
Circle Entertainment will release an update for Swords & Soldiers 3D next Thursday, the company has announced. Once applied, players will find a better experience thanks to an improved frame rate. Circle has also added in the Super Saucy Sausage Fest story at no extra cost.
The update for the NA version of Swords & Soldiers 3D will be available on October 30th. Super Saucy Sausage Fest story is coming!

— CIRCLE Ent. (@CIRCLE_Ent) October 21, 2014
Dakko Dakko has released a new update for Scram Kitty and his Buddy on Rails. The patch makes a few additions/changes, such as tweaked stage hazards and new enemy behavior.
Dakko Dakko shared Scram Kitty's update news on Twitter a few minutes ago with the following message:
Update for "Scram Kitty and his Buddy on Rails" is out! More powerful flames! Tweaked stage hazards! New enemy behaviour! No cost! Enjoy!!

— Dakko Dakko Ltd. (@dakkodakko) October 12, 2014
Super Smash Bros. for 3DS will receive a patch to support Amiibo, Nintendo has announced. A date for the update was not shared, nor are there details available at this time. Stay tuned!
The 3DS version of Shovel Knight has been updated to version 1.1, developer Yacht Club Games has announced. Grab it by heading to the eShop, visiting the "Settings/Other" tab, and then selecting "Updates".
Today's patch mainly addresses crash issues with the home menu. There is also an option in Shovel Knight's main menu that makes updating to new versions easier.
Pokemon Art Academy users in Europe and Japan can download a new patch from the 3DS eShop. It's relatively minor all things considered, as the update is only intended to one particular issue.
As stated on an official Nintendo of Europe page:
Corrects the issue that when converting a picture made using only the Outline pen to JPEG format, in order to post it to Miiverse or save it to the SD card, the colours would not save correctly and would all be changed to black.
The 1.1 patch for Armillo is now out in Europe, developer Fuzzy Wuzzy Games has confirmed.
Earlier today, the studio published the following tweet:
Armillo v1.1 patch is finally out in Europe! Thanks to all our EU players for their patience!

— Fuzzy Wuzzy Games (@FuzzyWuzzyGames) September 15, 2014
Armillo's 1.1 update also arrived in North America earlier this month. You can find the full list of improvements here.