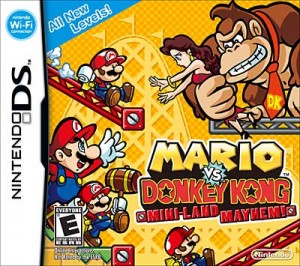 "Nintendo understands that it has lost so much money with piracy on the current DS that it is working on something to prevent that on future hardware. On the DS it was really the very first time that Nintendo software was pirated, so it took us all by surprise very quickly. The new hardware will be less easy to exploit and copy. In the last 24 months the market for DS has collapsed for software but people are still buying the hardware." – Ubisoft EMEA MD Alain Corre

We've heard a lot of developers weigh in about the 3DS' improved functionality of preventing piracy, and most companies seem pleased with what Nintendo will be implementing. Still, it'll be pretty tough to prevent pirates from finding workarounds.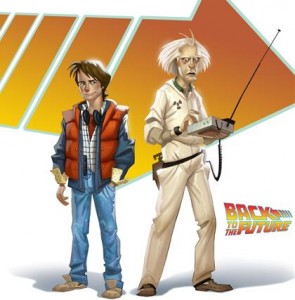 – Christopher Lloyd providing his voice for the game
– Bob Gale (screenplay writer for the films) working with the devs on the plot
– 5 episodes
– The DeLorean will make an appearance
– Expect to explore Hill Valley as well
– Time periods include 1985
– Other characters from the movie will appear besides Marty McFly and Doc Brown
Man, I can't tell you guys how much I love Back to the Future. The first movie is one of my favorite films. I really hope this doesn't disappoint fans, including myself!


– Officially named SaGa 3: Shadow or Light
– Full 3D remake,
– New cutscenes
– Basic plot is the same
– Characters can turn into mechs or beasts like in the original game
– What you turn into depends on what you eat
– Dion (temp character in the original) has a bigger role in the DS title




September 1, 2010 (Helsinki, Finland) — RedLynx (redlynx.com) today unveiled its latest creation: MotoHeroz, a brand new game for Nintendo's WiiWare™ service.

MotoHeroz takes RedLynx's established expertise in fast, physics-based gaming and expands it into an exciting, racing adventure, delivering a unique, side-scrolling platform racer.

Players race, chase, and rally their way through a rich, challenging world, competing against their friends for the fastest times, entering daily races, and hunting for secrets and coins.


01. / 00. [PSP] Monster Hunter Diary: Pokapoka Ailu Village (Capcom) – 256.076 / NEW
02. / 00. [PSP] Ace Combat X2: Joint Assault (Bandai Namco) – 57.785 / NEW
03. / 02. [WII] Wii Party (Nintendo) – 54.673 / 859.733 (-21%)
04. / 01. [PS3] Another Century's Episode R (Bandai Namco) – 28.354 / 248.203 (-87%)
05. / 00. [PSP] Hakuouki: Zuisouroku Portable (Idea Factory) – 24.469 / NEW
06. / 04. [NDS] Inazuma Eleven 3: World Challenge!! Spark / Bomber (Level 5) – 12.889 / 810.718 (-28%)
07. / 07. [WII] Super Mario Galaxy 2 (Nintendo) – 11.977 / 795.602 (-14%)
08. / 08. [NDS] Art Academy (Nintendo) – 10.301 / 148.759 (-22%)
09. / 06. [PSP] Tales of Phantasia: Narikiri Dungeon X (Bandai Namco) – 9.371 / 161.875 (-43%)
10. / 05. [PS3] Sengoku Basara 3 (Capcom) – 8.834 / 361.452 (-50%)
11. / 00. [PSP] Nisenochigiri (Idea Factory) – 8.558 / NEW
12. / 10. [NDS] Friend Collection (Nintendo) – 8.167 / 3.397.873 (-22%)
13. / 09. [PSP] Hatsune Miku: Project Diva 2 (Sega) – 7.933 / 322.254 (-39%)
14. / 11. [NDS] Taiko Drum Master DS: Dororon! Battle With the Ghouls!! (Bandai Namco) – 7.485 / 193.555 (-23%)
15. / 12. [WII] Dragon Quest: Monster Battle Road Victory (Square Enix) – 7.429 / 237.521 (-23%)
16. / 15. [WII] Wii Fit Plus (Nintendo) – 7.275 / 2.045.268 (-6%)
17. / 22. [PSP] Monster Hunter Freedom Unite [PSP the Best Reprint] (Capcom) – 7.011 / 400.521
18. / 03. [PS3] Super Dimensional Game Neptune (Compile Heart) – 6.896 / 29.471 (-69%)
19. / 14. [NDS] Tetris Party Deluxe (Hudson) – 6.258 / 42.375 (-24%)
20. / 17. [WII] Mario Kart Wii (Nintendo) – 6.142 / 2.914.811 (-20%)


Big 3 Gun Shooting (PS3) – Video
Crayon Shin-chan Shock Gun! (DS) – Playable/video
Dokonjou Shougakusei Bon Bita (DS) – Playable/video
Dragon Ball Raging Blast 2 (PS3/360) – Playable/video
Enslaved: Odyssey to the West (PS3/360) – Video
God Eater Burst (PSP) – Playable/video
Heart Catch Precure! Oshare Collection (DS) – Playable/video
Idolmaster 2 (360) – Video
Kamen Rider Climax Heroes Os (Wii/PSP) – Playable on Wii/video
Knights Contract (PS3/360) – Video
Macross F Hybrid Pack (PS3) – Video
Minna de Bouken! Family Trainer (Wii) – Playable/video
My Sister Can't Possibly be this Cute Portable (PSP) – Video
Naruto Ultimate Storm 2 (PS3/360) – Playable/video
One Piece Gigant Battle (DS) – Playable/video
Pac-Man Party (Wii) – Playable/video
SD Gundam Brave Battle Warriors (DS) – Exhibit
Solarobo (DS) – Playable/video
Super Robot Wars L (DS) – Playable/video
Tales of Graces F (PS3) – Playable/video
Tales of the World Radiant Mythology 2 (PSP) – Playable/video
Tamagotchi no Narikiri Challenge (DS) – Playable/video


Dead Rising 2
Dead Rising 2: CASE ZERO
Marvel vs. Capcom 3: Fate of Two Worlds
Okamiden
Ghost Trick: Phantom Detective
Sengoku BASARA: Samurai Heroes
Resident Evil 5 (on the PlayStation Move)
Bionic Commando Rearmed 2
Mega Man Universe
Source: Capcom PR


Front Mission Evolved (PS3/X360/Win): Playable & Video
Kingdom Hearts Re:Coded (DS): Playable & Video
Lord of Arcana (PSP): Playable & Video
Tactics Ogre (PSP): Playable & Video
The 3rd Birthday (PSP): Playable & Video
Mind Jack (PS3/X360): Playable & Video
Final Fantasy Legends (Mobile): Playable & Video
Call of Duty Black Ops (PS3/X360/Win): Video
Deus Ex (PS3/X360): Video
Lara Croft Guardian of Light (PS3/X360): Playable & Video
Final Fantasy XIV (PS3/Win): Video
Final Fantasy XI (PS2/X360/Win): Video
Fallout New Vegas (PS3, X360) : Playable
Craft Mama (DS) : Playable
Baby Sitter Mama (Wii) : Playable
Motto! Stitch! DS (DS) : Playable