Thanks to L.P. for the tip!






PSP – 21,662
Wii – 20,588
PS3 – 17,676
DSi LL – 11,138
DSi – 10,172
Xbox 360 – 3,225
DS Lite – 3,108
PS2 – 1,291
PSP go – 718
For comparison's sake, here are the numbers from last week.
PSP – 23,588
PS3 – 18,951
Wii – 18,818
DSi LL – 10,737
DSi – 8,219
Xbox 360 – 3,258
DS Lite – 1,743
PS2 – 1,316
PSP go – 1,026


Had enough of Miyamoto yet? I hope not! IGN has conducted a massive interview with him, which you can check out below.
Miyamoto on the Vitality Sensor's absence…
"It's actually progressing quite well. We could have shown it here at E3 if we wanted to, but the environment here isn't really suited to that game. E3 is pretty exciting, and that's a device that's all about relaxation. So it's just wasn't the best time or place to show that game. But it is ready, so we'll probably find another place that's more suitable to announce it. But I'm not directly involved in that project."


We posted a snippet of this interview in a previous post, but you can watch the complete video below!


SQUARE ENIX ANNOUNCES A NEW PROJECT IN THE CHOCOBO SERIES, CHOCOBO RACING 3D EXCLUSIVELY FOR NINTENDO 3DS

LOS ANGELES (June 15, 2010) – Square Enix, Co., Ltd., (Square Enix) announced today CHOCOBO RACING® 3D (tentative title) for the new Nintendo 3DSTM.

CHOCOBO RACING® 3D (tentative title) will feature familiar characters from the acclaimed FINAL FANTASY® and CHOCOBO® franchises in 3D. The game will feature exhilarating, speedy racing that can only be experienced through 3D.

Additional details will be announced at a later date.




Nintendo revealed earlier this week that a ton of games based on classic franchises are in the works for the 3DS. One title that was conspicuously missing, however, was the announcement of an original Mario platforming adventure. Fortunately, Shigeru Miyamoto assured fans in a recent interview that there are plans to bring a main Mario title to the 3DS other than Paper Mario.
"We could've very easily done just a quick Mario-based tech demo that would show something like that, but one of the things that I'm always concerned about is showing a Mario gameto people before it's ready to be shown. So that's why we held back this time. But now that Super Mario Galaxy 2 is done, we'll be able to go hard at work on a new Mario game for Nintendo 3DS. So you can expect to see a Mario game at some point, but you'll just have to wait a little bit longer."
The only question is, what type of game will it be? Another New Super Mario Bros.? Or something similar to Super Mario 64 DS?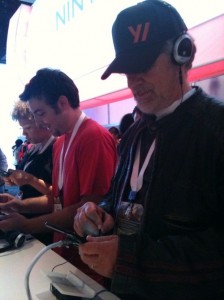 Alright, Mr. Spielberg…Time to get to work on Boom Blox 3DS!