The Dragon Quest series is one of the most successful video game franchises in Japan. That fact alone left no doubt that Dragon Quest IX would be a mega hit in Japan. Reports surfaced a few days ago that preorders numbers reached the two million units mark which only added to the belief that the game could be one of the best-selling titles this year.
Dragon Quest IX went on sale Saturday and now there is a number being thrown around regarding first day sales. It should be stressed, however, that this rumor should be taken with a big grain of salt. Fortunately, more reliable figures will become available in the next few days. For those interested though, speculation puts the title at 2,877,000 units sold on day one. Data provided since 1996 shows that Final Fantasy VIII has the highest first week numbers in Japan at 2.5 million, so DQIX would surpass that. Even if the unofficial results are incorrect, you can be rest assured that the game will be a huge seller in the market.


It's pretty tough to find a word that won't be recognized in Scribblenauts. Five people provided the developers with assistance in researching words for six straight months. Because of the amount of time spent in that area, the game can transport even a giant enemy crab or Leroy Jenkins into the game. But won't about words that can't be viewed in Scribblenauts? Here's a partial list below.
PERPETUALITY
INTERNET
SANDBOARD
DELTOID
SHOVELWARE
ANTIMACASSAR
MISANTHROPE
PLUMBOB
GLITCH
ANTIDISESTABLISHMENTARIANISM
COULROPHOBE
BOOBS
JEDI
ONM
MEANING OF LIFE
DS
HAMMER OF THOR
DANCING BANANA
USB STICK
RAPTOR JESUS
SHOOP DA WOOP
JOYSTIQ
ANNUAL
LEG WOUND
RUPEE
RUDOLPH


Best Buy
Wii Zapper – $19.99
Wii Messenger Bag – $24.99
Call of Duty: World at War (Wii) – $39.99
The House of the Dead: Overkill (Wii) – $29.99
Up (Wii) – $39.99
Shaun White Snowboarding (Wii) – $49.99
Gold's Gym Cardio Workout (Wii) – $19.99
LEGO Star Wars: The Complete Saga (Wii) – $19.99
LEGO Batman: The Videogame (Wii) – $19.99




Best Playable Platformer – New Super Mario Bros. Wii
Biggest DS Surprise – Golden Sun
Best Fighting Game – Tatsunoko vs. Capcom: Ultimate All-Stars
Best Workout – Wii Fit Plus
Most Improved Sequel (Ever?) – Red Steel 2
Most Inventive – Final Fantasy Crystal Chronicles: The Crystal Bearers
Holy Crap! – Metroid: Other M
Most Faithful – The Legend of Zelda: Spirit Tracks
Most Innovative – Scribblenauts
Most Drool-Worthy – Muramasa: The Demon Blade
Best Light-Gun Game – Dead Space: Extraction
Most Puzzling – Professor Layton and the Diabolical Box
Most Frantic – Sin and Punishment 2
Most Monstrous – The Grinder
Most Brutal – Gladiator A.D.
Most Mind-Blowing – Silent Hill: Shattered Memories
Most Disturbing – Dementium II
Biggest Applause – Super Mario Galaxy 2
Most Huggable – A Boy and his Blob
Biggest Mystery – Monado: Beginning of the World
Best Cloaks – Kingdom Hearts 358/2 Days
Most Legendary – The Legend of Zelda (Wii)
Most Knowledgeable – Shigeru Miyamoto


Thanks to _Contra_ for the news tip!


On the heels of the release of The Legendary Starfy video game for the Nintendo DS and Nintendo DSi portable video game systems, Ashley P., 8, from New York enjoys playing the video game with her mother, Rocio J. at an event held at the Nintendo World store in New York on July 11, 2009.

Everyone loves a star – or Starfy, for that matter. Emilie M. and her daughter Starrlene H., 3, of New York, have fun playing The Legendary Starfy, a new video game for the Nintendo DS and Nintendo DSi portable video game systems, at an event held at the Nintendo World store in New York on Saturday, July 11, 2009.

Marisa W., 8, and her brother Harrison W, both of New Jersey, meet Starfy, Nintendo's newest video game hero from The Legendary Starfy for the Nintendo DS and Nintendo DSi portable video game systems, at a Nintendo World store event in Rockefeller Plaza on July 11, 2009.


Thanks to _Contra_ for the news tip!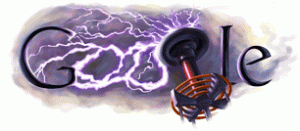 It's settled: There has to be at least one person working for Google who is either a fan of the triforce specifically or Zelda in general. Nikola Tesla's birthday was yesterday and the company changed their typical logo image into a Tesla Coil to celebrate his birthday. But more important to Zelda fans is that deep in the picture is a hidden logo of the triforce. Interestingly, that's not the first time that this is happened, as many will remember that the same thing happened on Earth day. You can also see someone wearing a Link costume at the Google headquarters.