– play as a 17-year-old
– story kicks off with a demon coming out of your COMP, a portable gaming system
– the government closes off the center of Tokyo to deal with the issue
– characters: Atsuro Kihara, Yuzu Tanikawa and more
– isometric view
– use your COMP to have demons fight for you
– Shinjiro Takada: director


Brandon Crisp, a young boy, had been missing up until today when he was found dead. Brandon ran away from his home after his parents took away his Xbox 360. His parents took possession of the console after they decided Brandon had become addicted to Call of Duty 4. Initially, Brandon's parents believed that the boy's disappearance was somehow related to his addiction to video games. It was only after investigators analyzed Brandon's Xbox 360 analyzed that the link between video games and his disappearance were no longer tied together.
"It's still being analyzed a little further, but at this point we have no reason to believe there is any connection to date between the Xbox and his disappearance," Sgt. Goodbrand
Dr. David Walsh of the National Institute on Media and the Family commented on the situation and strongly states that video game companies do not want to address video game addiction.
"I don't think want to touch addiction with a 10-foot pole. It raises all sorts of liability issues for them. And my interpretation is that their strategy is to ignore it and hope it will go away. If you talk to front-line counsellors in places like universities they'll tell you that this is a huge issue. The way people are viewing this is changing quickly."


Virtual Console
1 (1) – Super Mario Bros. 3
2 (3) – Super Mario Bros.
3 (2) – Secret of Mana
4 (4) – Super Mario RPG: Legend of the Seven Stars
5 (N) – Earthworm Jim
6 (5) – Super Mario World
7 (7) – Punch-Out!!
8 (8) – Super Mario Bros. 2
9 (10) – The Legend of Zelda
10 (9) – Super Mario 64
11 (6) – Mega Man 2
12 (11) – The Legend of Zelda: Ocarina of Time
13 (12) – Sonic the Hedgehog
14 (13) – Donkey Kong Country
15 (16) – Pac-Man
16 (14) – Mario Kart 64
17 (15) – Super Dodge Ball
18 (19) – The Legend of Zelda: A Link to the Past
19 (18) – Kirby's Adventure
20 (20) – Donkey Kong
WiiWare
1 (2) – Tetris Party
2 (1) – World of Goo
3 (4) – My Aquarium
4 (3) – Mega Man 9
5 (15) – Strong Bad Episode 3 Baddest of the Bands
6 (8) – The Incredible Maze
7 (5) – Bomberman Blast
8 (9) – Dr. Mario Online Rx
9 (10) – Defend your Castle
10 (6) – Midnight Bowling
11 (11) – My Pokemon Ranch
12 (13) – TV Show King
13 (12) – Wild West Guns
14 (17) – Pong Toss – Frat Party Games
15 (16) – Final Fantasy Crystal Chronicles: My Life as a King
16 (7) – Art Style: Cubello
17 (18) – Strong Bad Episode 1 Homestar Ruiner
18 (14) – Art Style: Orbient
19 (19) – LostWinds
20 (N/A) – Midnight Pool

CAMBRIDGE – November 5, 2008 – D3Publisher (D3P), a publisher and developer of interactive entertainment software, together with its parent D3, Inc., today announced a worldwide publishing agreement with Imagi Studios for videogames based on the new animated adventure film, Astro Boy. The games are scheduled to be released for console and handheld systems in Q4 2009 to coincide with the worldwide release of the movie in Q4 2009.

"The rich history and endearing story of Astro Boy appeals to fans around the globe and translates exceptionally well to the interactive space," said Yoji Takenaka, president and chief executive officer, North America and Europe, D3P. "We look forward to working with Imagi to bring the film's unique cast of characters to life in a compelling videogame that fans and gamers of all ages will enjoy."

Erin Corbett, president of Imagi Studios U.S., said: "We are delighted to have D3Publisher as our exclusive worldwide interactive partner, and we look forward to seeing Astro Boy raised to new superhero heights in the videogame universe."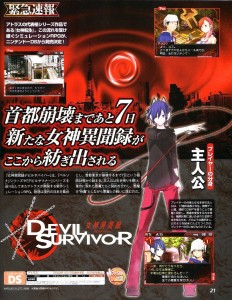 – A team of students has to stop a countdown of 7 days in order to avoid Tokyo complete destruction
– You will be able to summon monsters with a mobile app presented to you in the game.
– Kazuma Kaneko handling monsters designs

The latest Famitsu review scores are as follows:
Hoshi no Kirby: Ultra Super Deluxe (NDS, Nintendo): 8 / 8 / 8 / 8 – (32/40)
Samurai Dou 3 (PS3, Spike): 8 / 7 / 8 / 8 – (31/40)
Family Ski: World Ski & Snowboard (Wii, Bandai Namco): 9 / 9 / 8 / 8 – (34/40)
Rhythm de Cooking (NDS, MTO): 8 / 7 / 7 / 7 – (29/40)
Ryuusei no RockMan 3 (NDS, Capcom): 8 / 8 / 8 / 8 – (32/40)
Tongari Boushi no Mahou no 365 Nichi (NDS, Konami): 7 / 7 / 7 / 7 – (28/40)
Ikatan: Ikamono Tantei (NDS, CyberFront): 6 / 5 / 6 / 6 – (23/40)
Taisen!! Ka to Chan no Kororonpe! (NDS, CyberFront): 6 / 6 / 5 / 5 – (22/40)
Blob: Colorful na Kibou (Wii, THQ): 9 / 9 / 8 / 8 – (34/40)
Illvelo Wii: Illmatic Envelope (Wii, Milestone): 6 / 6 / 7 / 7 – (26/40)
Fushigi no Dungeon: Fuurai no Shiren DS 2 – Sabaku no Majou (NDS, Sega): 9 / 8 / 8 / 8 – (33/40)
DS Nishimura Kyotaro Suspense 2 Shin Tantei Series: Kanazawa – Hakodate – Gokkan no Kyoukoku – Fukushuu no Kage (NDS, Tecmo): 8 / 7 / 7 / 7 – (29/40)
Sengoku Efuda Yuugi: Hototogisu Ran (PSP, Irem): 6 / 6 / 5 / 5 – (22/40)
FIFA 09 (PSP, EA): 7 / 8 / 7 / 7 – (29/40)
Zero Pilot: Daisanji Sekai Taisen 1946 (PSP, Global A): 5 / 6 / 6 / 5 – (22/40)
Chuumon Shiyouze! Oretachi no Sekai (PSP, Global A): 8 / 8 / 8 / 7 – (31/40)