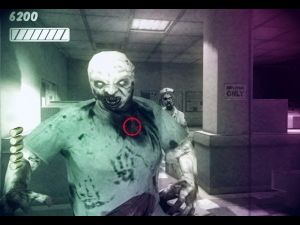 – Game is finished with development, being manufactured right now
– Has "The fear of being overwhelmed by enemies, the sensation of fast movement and having a split-second to catch small targets for pickups."
– Developers attracted to the Wii's control scheme – Anyone can play
– Game initially "had a 'softened realism' look"
– Couldn't include MotionPlus because it was announced too late in the development cycle – It will be considered for other games
– Can shoot straight through zombies + kill more than one with Hand Cannon

EQUILIBRIO (Wii) – This is a puzzle game in which players navigate a small ball through a maze while avoiding hazards. Players can collect coins throughout the maze for additional points.
Lonpos (Wii) – Lonpos is a puzzle game in which players manipulate colored pieces to fit them into a rectangular game board. Players are scored based on how fast they complete each puzzle.
Super Punch-Out!! (Wii) – No description provided.
Ready 2 Rumble Revolution (Wii) – This is an arcade-style fighting game in which players compete in boxing matches against a cast of colorful, fictitious characters. Players can employ a variety of standard boxing moves (jabs, hooks, uppercuts, blocking) as well as some not-so-standard moves, including special attacks that can send an opponent flying into the air or out of the ring. Knockouts are sometimes depicted in slow motion, while fighters' faces often appear bruised after taking damage. Ring girls with tight, short pants and oversized breasts that jiggle appear at the conclusion of every round. Some fighters are depicted with cigars in their mouths.


A Classic Returns with Updated Graphics and Controls

SANTA CLARA, Calif., (January 9, 2009) – Leading video games publisher and developer NAMCO BANDAI Games America Inc. announced today that Klonoa® will be available in North America for Wii™ in 2009. Klonoa's long-awaited return offers vibrant graphics, motion control and new secrets to discover in this update to the series' debut adventure. Highly revered as one of the best platform games of the past 10 years, Klonoa will ignite Wii owners' imaginations with addictive gameplay, exciting stages and a memorable story.

"Klonoa's return marks an exciting re-boot of this beloved franchise with old-school gameplay, spectacular graphics and an instantly recognizable character," said Todd Thorson, director of marketing and public relations for NAMCO BANDAI Games America. "Klonoa's time-tested gameplay and intricate level design make for an awesome experience on Wii."

DSi 182,518
PSP 157,088
Wii 119,965
PS3 60,654
DS Lite 48,160
Xbox 360 19,694
PS2 12,548

Famicom
– Zoids: Mokushiroku (Takara Tomy)
Master Syste
– Fantasy Zone II (Sega)
PC-Engine
– Spriggan Mark 2 (Naxat Soft)

Nintendo Wii
North America
1. Wii Fit (Nintendo)
2. Mario Kart Wii (Nintendo)
3. Wii Play (Nintendo)
4. My Fitness Coach (Ubisoft)
5. Active Life Outdoor Challenge (Namco Bandai)
Japan:
1. Taiko no Tatsujin Wii (Namco)
2. Wii Fit (Nintendo)
3. Mario Kart Wii (Nintendo)
4. Shape Boxing Wii de Enjoy Diet! (Rocket Company)
5. Wii Sports (Nintendo)
UK:
1. Mario Kart Wii (Nintendo)
2. Wii Play (Nintendo)
3. Wii Fit (Nintendo)
4. Rayman Raving Rabbids: TV Party (Ubisoft)
5. Carnival: Fun Fair Games (2K Games)
Nintendo DS

North America:
1. Mario Kart DS (Nintendo)
2. New Super Mario Bros. (Nintendo)
3. Club Penguin: Elite Penguin Force (Disney)
4. Personal Trainer: Cooking (Nintendo)
5. Mystery Case Files: MillionHeir (Nintendo)
Japan:
1. Wagamama Fashion: Girls Mode (Nintendo)
2. Rhythm Tengoku Gold (Nintendo)
3. Tongari Boushi no Mahou no 365 Nichi (Konami)
4. Pocket Monsters Platinum (Nintendo)
5. Penguin no Mondai: Saikyou Penguin Densetsu! (Konami)
UK:
1. Dr. Kawashima's Brain Training (Nintendo)
2. Puzzler Collection (Ubisoft)
3. More Brain Training (Nintendo)
4. 42 All-Time Classics (Nintendo)
5. Lego Indiana Jones (LucasArts)

In Tokyo Beat Down, you shoot first, punch second, kick third, break for lunch, and then ask questions… if there's time. Every sort of crook, hoodlum, thief, criminal, traitor, drug dealer, murderer, assassin, terrorist, arsonist-well, you get the idea-is scheming to take over the streets of Tokyo, and only one police unit has what it takes to stand in their way. The most vicious, merciless, unyielding team of enforcers: the Beast Cops.

"Say hello to my little friend!"
This sordid tale of Tokyo's criminal set unfolds through the eyes of three different cops with unique play styles. Story branches lead to multiple endings that determine whether you'll get your shot to beat down the ultimate crime boss. That's right, boys and girls, multiple characters and endings.

An All-New Phantasy Star Adventure Begins on The Nintendo DS

LONDON & SAN FRANCISCO (January 9, 2009) – SEGA® Europe Ltd. And SEGA® of America, Inc. today announced that Phantasy Star™ Ø (pronounced "zero"), the brand new Phantasy Star RPG adventure, will be coming to Europe and North America. Phantasy Star Ø is one of the most highly anticipated DS titles coming out in 2009, and will feature an innovative touch screen based Visual Chat interface, addictive action-RPG gameplay, impressive visual quality and thrilling multiplayer modes.

"The Phantasy Star series has enjoyed great success because of its intuitive gameplay, unique style and engaging online multiplayer modes, we are therefore very excited to premiere the first Phantasy Star game on the Nintendo DS™," commented Gary Knight, European Marketing Director for SEGA Europe. "With the advanced features of the Nintendo DS, Phantasy Star Ø will thrill fans of the series but will also appeal to a new generation of gamers."