Update: Looks like the title is related to Lord of Vermillion, a card game.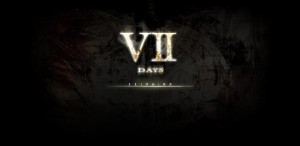 Square Enix seems to have taken a liking to teaser websites over the past few months. Most recently, the company kept Final Fantasy Gaiden: Four Warriors of Light under wraps, but then revealed the mystery a few days after. Today, however, Square Enix brings gamers a new teaser site. There isn't much to it – There's a notice that says "VII Days," but that's about it. A countdown timer can also be seen (and is apparently part of the VII Days"), which has over eleven days left on it. Perhaps we'll receive more information once the time expires.


12 Titles reach Silver Status (100k)
POKEMON PLATINUM DS NINTENDO
THE SIMS 3 PC EA
UFC 2009: UNDISPUTED XB360 THQ
SONIC UNLEASHED XB360 SEGA
100 CLASSIC BOOK COLLECTION DS NINTENDO
EA SPORTS ACTIVE WII EA
UFC 2009: UNDISPUTED PS3 THQ
TRANSFORMERS: THE GAME – AUTOBOT DS ACTIVISION BLIZZARD
BUZZ! QUIZ TV PS3 SONY
BATTLEFIELD: BAD COMPANY PS3 EA
WARHAMMER 40,000: DAWN OF WAR DARK CRUSADE PC THQ
EMPIRE: TOTAL WAR PC SEGA
2 Titles reach Gold Status (200k)
BEN 10: PROTECTOR OF THE EARTH DS D3P
THE SIMS 3 PC EA
2 Titles reach Platinum Status (300k)
KUNG FU PANDA XB360 ACTIVISION BLIZZARD
NEED FOR SPEED: UNDERCOVER XB360 EA
3 Titles reach Double Platinum Status (600k)
MARIO & SONIC AT THE OLYMPIC GAMES DS SEGA
CALL OF DUTY 4: MODERN WARFARE PS3 ACTIVISION BLIZZARD
PROFESSOR LAYTON AND THE CURIOUS VILLAGE DS NINTENDO
1 Title reaches Diamond Status (1.0m)
CALL OF DUTY 4: MODERN WARFARE XB360 ACTIVISION BLIZZARD

Media Create has published the latest hardware sales figures from Japan. The results are below.
DSi – 80,362
PSP – 30,523
Wii – 23,995
DS Lite – 12,385
PS3 – 8,997
PS2 – 3,305
Xbox 360 – 3,080
For comparison's sake, here are the numbers from the week of July 23rd (last week).
DSi – 96,986
PSP – 24,053
Wii – 20,807
DS Lite – 9,932
PS3 – 8,865
PS2 – 3,352
Xbox 360 – 2,899

"We think that a rebound in Wii hardware sales is possible only with price cuts or a more attractive software bundle. At its current run rate, Nintendo is tracking to sales of only 12 – 15 million Wiis, compared to its reiterated guidance for sales of 26 million. An increase of this magnitude is possible only with a more attractive software bundle or a price cut. We think it is likely that Nintendo will experiment with alternative bundles, possibly including a Wii Sports Resort bundle or a Wii Motion Plus bundle in the next several weeks…We think that Nintendo's reiteration of its Wii hardware guidance indicates its intention to cut price on the hardware prior to holiday. Should alternative bundles fail to sufficiently drive hardware sales, we think that the company is in a good position to drop the price of the Wii to below $200. In our view, a price cut on the core DS unit to $99.99 is possible, should Nintendo decide it is necessary to achieve its shipment forecast." – Wedbush Morgan Securities analyst Michael Pachter
According to Mr. Pachter, if Nintendo were to cut the price of the Wii to below $200, the company may decide to take the original Wii Sports out of the package.

Thanks to Jake for the news tip!

WiiWare:
Driift Mania (800p)
Tales of Monkey Island: Chapter 1 (1000p)
The Three Musketeers (900p)
DSiWare:
Guitar Rock Tour (500p)

Up to this point, DSiWare in North America and Europe has been littered with overpriced applications and mediocre downloads. Hudson, however, is looking to change that in the near future – At least with their own support. Mike Pepe, Director of Marketing, has told Siliconera that they are "going to be pushing DSiWare pretty hard." As things stand now, the company is looking to release four or five titles for the service, which will either be based on typical Hudson games and new IPs.