Videos

Wii Music Tips 6: Drum Mode Tutorial
Wario Land: Shake It! Tips 1
Shaun White: Mountains Featurette
Rock Band 2: Avenged Sevenfold Featurette
Cooking Mama: World Kitchen Pizza Video
Prince of Persia: Fallen King Video
Big Kahuna Party Info Video
FIFA Soccer 09 All-Play Info Video
Imagine: Babysitters Info Video
Digest Video
Demos (Expire 11/21)
Personal Trainer: Cooking Mac & Cheese Demo
Elebits: The Adventures of Kai and Zero
Soul Bubbles Demo
Amazing Adventures: The Forgotten Ruins Demo

Update: Club Nintendo is now live. Visit the website here
Club Nintendo went live a couple of minutes ago (although the placeholder has returned – temporarily, we assume). Here's the first details on the service:
Earning coins
Wii game register = 50 coins
DS game register = 30 coins
VC/WiiWare titles/Wii Channels = 10 coins
– Indicating your intent to buy a game. You'll earn 10 extra Coins after you buy it, register it and complete the survey.
– Registering a Nintendo game and completing a quick survey within 4 weeks of its launch. You'll earn an additional 10 Coins!
– Completing a Post Play survey that will be available within 4-6 after the release of a game. You'll earn an additional 10 Coins!
Prizes thus far:
Game & Watch Collection – 800 coins
White Nintendo DS Game Card Case – 600 coins
Hanafuna Cards – 800 coins
Mario Party Playing Cards – 500 points
Animal Crossing Playing Cards – 500 points
Mario Nintendo DS Game Rack – 600 coins
Nintendo DS Game Card and Stylus Set (Black) – 600 coins
Nintendo DS Game Card and Stylus Set (Super Mario Bros. Theme) – 600 coins
Nintendo DS Game Card and Stylus Set (Animal Crossing Theme) – 600 coins
Nintendo DS Lite Case (Silver) – 400 points
Wii Remote Holder – 300 coins
Platinum/Gold status info:
600 coins in a Club Nintendo year (July 1 to July 30) can receive a free gift + Platinum rank
300 coins in a Club Nintendo year can receive a different free gift + Gold rank
Read past the break for some information about product registration…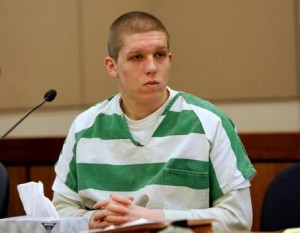 This isn't exactly Nintendo related, but it is video game related. And unfortunately, this is another terribly saddening story over a video game.
17-year-old Daniel Petric was angry about his parents taking away his copy of Halo 3 to the point that, believe it or not, shot his father and killed his mother. The newest detail about the case is that he also attempted to pass off the killing as a murder-suicide.
Petric, who was 16 at the time, secretly left his house to purchase Halo 3. However, the boy was caught by his parents. Apparently the parents did not want their son to be playing Halo 3, so the game was placed in a lockbox. A 9mm hangun was additionally inside the box. Petric managed to somehow open it, and took both the game and the gun out of the box.
The most disturbing part of this whole story? Before Petric shoot his father, he said, "Would you guys close your eyes. I have a surprise for you." Right after that, Petric shot his father.
Fortunately, the father survived the shooting but the same cannot be said about Daniel's mother. Daniel is currently tried to
The case is being tried to a Lorain County Common Pleas judge instead of a jury at the request of Daniel Petric.

Most publications have, or are in the process of handing out their 2008 awards. Check out the EDGE magazine awards below:
Best game:
LittleBigPlanet
GTA IV
Fable II
Best Innovation:
LittleBigPlanet
NXE
Left 4 Dead
Best Visual Design
LittleBigPlanet
Street Fighter IV
Far Cry 2
Best Audio Design:
Dead Space
GTA IV
No More Heroes
Best hardware:
Xbox 360
PS3
Wii
Best Publisher:
Microsoft Game Studios
Electronic Arts
Sony Computer Entertainment
Best Online Experience:
Left 4 Dead
LittleBigPlanet
Gears of War 2
Best Developer:
Media Molecule
Criterion Games
Rockstar North

1 1 CALL OF DUTY: WORLD AT WAR TREYARCH ACTIVISION ACTIVISION BLIZZARD
2 2 MARIO KART WII NINTENDO NINTENDO NINTENDO
3 3 FIFA 09 EA CANADA EA SPORTS ELECTRONIC ARTS
5 4 NEED FOR SPEED: UNDERCOVER EA BLACK BOX EA GAMES ELECTRONIC ARTS
4 5 DR KAWASHIMA'S BRAIN TRAINING NINTENDO NINTENDO NINTENDO
7 6 FALLOUT 3 BETHESDA BETHESDA SOFTWORKS BETHESDA SOFTWORKS
9 7 WII PLAY NINTENDO NINTENDO NINTENDO
8 8 WII FIT NINTENDO NINTENDO NINTENDO
10 9 GUITAR HERO: WORLD TOUR VICARIOUS VISIONS REDOCTANE ACTIVISION BLIZZARD
6 10 TOMB RAIDER: UNDERWORLD CRYSTAL DYNAMICS EIDOS EIDOS

WiiWare

Strong Bad Episode 5 8-Bit is Enough – 316 blocks
Big Kahuna Party – 122 blocks

VC

Enduro Racer – 17 blocks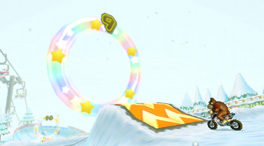 Course: DK Summit
Main objective: Go through gates
Secondary objective: Obtain the best time
Tournament date: 12/15 – 12/25

Update 1: More movie talk in the video
Update 2: Kojima has also discussed any plans he has for the Wii (see below).
"For the most part, I would never do a [Metal Gear] film without overseeing all aspects and making sure the fans and especially I am happy with it. As for that note, the idea of releasing a game to coincide with the film is an interesting one [laughs]. I might do that." – Hideo Kojima
That's pretty reasonable if you ask me. I shutter just thinking about how a Zelda film would turn out if Shigeru Miyamoto wasn't involved in a heavy way.
"I've got a lot of ideas on my mind [for Wii], but I can't say too much right now."

New Class: Traveling Performer
– balanced defense and offense
– acrobatic skill
– increase this skill to learn special techniques (for example, make an enemy laugh
– some equipment of the Traveling Performer: Serpent Whip, Feathered Cap, Dancer's Shirt, Gaudy Pants, Acrobat Shoes
Possible new class: Bodybuilder
New Monsters: Zucchinya and Tiger Lance
New Monsters: Zucchinya and Tiger Lance
New Monsters: Moomon, Ponpoko Tanuki and Argon Devil
– Zucchinya: vegetable monster that is good with a spear
– Tiger Lance: uses a lance, and can cast spells such as Rukani
– Moomon: skin like a cow
– Ponpoko Tanuki: known as a "dance hero", uses dance steps to 'attack'
– Argon Devil: very fast, slender body allows it to attack quickly. Sharp claws
New NPC: Winged angel Laviel
– works in Luida's bar
– allows you to connect to multiplayer features
– one player hosts, others play as guests
– 4 characters allowed
– some treasure chests can only be opened by the host
Multiplayer battles
– if you fight separately, you can call for guests to help
– guests will be transported to host if host calls for help
– guest can decline
– if you run up to characters in battle, you can help them
– multiplayer detailed records kept
– record examples"
1. Class, Name
2. Time played
3. 'information couldn't be translated'
4. Number of battles won.
5. Number of titles received
6. Number of quests cleared
7. Percentage of monsters faced and defeated
8. Percentage of items acquired
9. Percentage of recipes
– use gestures with frineds
– gestures are hidden throughout the game world