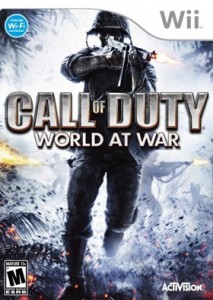 Game Info
System: Nintendo Wii
Genre: First Person Shooter/Action
Players: 1-2
Release Date: November 11, 2008
Publisher: Activision
Developer: Treyarch
The plethora of Wii games has grown ever since the console's release, but one genre more than any other seems to have suffered on a system where it should have benefited from the unique control scheme: Shooters. From Metroid Prime 3 to Medal of Honor Heroes 2, the Wii has seen many attempts at making a quality shooting game. With the Wii, however, when developers excelled in one area, they lacked in another. EA's Medal of Honor Heroes 2 had some quality online multiplayer, but felt all over dated in comparison to more current shooters. Retro Studio's Metroid Prime 3 had great story, control and graphics, but it lacked online and multiplayer options – though it should also be remembered that Prime 3 is an adventure at heart. The newest installment in the shooter genre on the Wii is Treyarch's "Call of Duty: World at War", which, utilizing the Call of Duty 4 engine, has proven itself to be one of the best shooting options on the console to date.
There is no one thing that stands out about World at War because the game is so well rounded. From the graphics to the controls to the online, each and every aspect of the game trumped nearly every predecessor on the system to date (with the exception being the story and graphics of Metroid Prime 3). One thing players will notice upon first glance, are the visuals.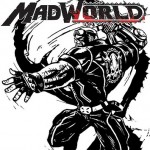 Game Info
System: Nintendo Wii
Genre: Beat em up
Players: 1-2
Release Date: March 10, 2009
Developer: Platinum Games
Publisher: Sega
Ever since its launch, the Nintendo Wii has served as the pinnacle of casual gaming for the modern industry. People who once overlooked video games were playing Wii Sports and working out with Wii Fit, and those who already played games were drawn in by the intuitive controls and party-style gameplay. For the more mature gamers, however, the novelty soon wore off and countless Wiis were found gathering dust in closets and on unused TV stands. While Nintendo continued to release and re-make more and more casual-style games, hardcore gamers abandoned Wii altogether, often selling their systems in order to purchase another. The lack of more mature and hardcore titles on the system has served to be one of its major catastrophes, and also its biggest pitfall. But of course, with a new year comes a new mentality, and game developer/publisher Sega has strayed into all but untouched snow with their stylized black and white beat em up, Madworld which has proven to be not only the Wiis first big blockbuster of the year, but also the most fun I have had playing video games in a long time.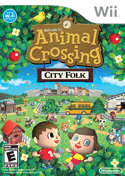 Game Info
System: Nintendo Wii
Genre: Social Simulation
Players: 1
Release Date: November 16, 2008
Publisher: Nintendo
In the gaming industry, there are many genres that fit an individual title. From shooters to RPG's, each game has a category it can properly find itself in. Over the years, however, many games (while becoming increasingly more advanced in terms of hardware) have lost a very simple, yet very important aspect: Charm. "Animal Crossing: City Folk" has revitalized that aspect of gaming and has succeeded in bringing to the Wii the single most charming title that I have ever played. From the graphical animations to the terrible but cute one-liners, City Folk keeps things simple; and in this case that is a good thing.


A few days ago, Nintendo released Kirby Super Star Ultra for the Nintendo DS handheld console. When I had no clue what type of game it would be, I decided I would actually take the time to check it out. So, I started reading a lot of Nintendo websites, including Nintendo Everything and was surprised to see no review of the game! Of course, I know most Nintendo websites on the Internet are pretty much news reporting websites, some reviewing games that are supposed to be big, but really…what's not so big about Kirby?! Okay, okay; sure, he's a little pink puff ball, but IGN gave this SNES remake a 7.9. Only a 7.9?! Totally underrated.
Why? Well, I'll tell you why. I'm actually a big classic Nintendo fan. Mario, Donkey Kong, Kirby; whoever the classic Nintendo character is, I'm totally a fan of it. I haven't seen a good Kirby game in ages since the last N64 Kirby game. So, let me tell you, I was pretty excited that a Kirby game was released on the DS. Sure, there has been racing Kirby games and what not, but really, that's not the real adventurous Kirby that I know and love!
So, after reading a couple reviews on the game and stopping by my local video game vendor, I totally realized that this game is an old school, retro game of a SNES Kirby game! Ever heard of Kirby Super Star?! It has 8 games in one! YES. YES, I SAID IT. EIGHT GAMES IN 1! Really. Really, really.
Now, I know a lot of Nintendo fans and video game fans and I totally never heard anyone talk about this classic game; and if you haven't got the point that I'm surprised by this, then really, I don't know what else to say besides say, "I am surprised!" AGAIN.
I remember playing Kirby Super Star on my Super Nintendo with my cousins when I was a kid. It's seriously one of the best games for the Super Nintendo and I really, really enjoyed it. Sure, maybe not all the eight games that come within the overall game are awesome, but the majority of them are pretty fun and hard. I think half of the games within the game are just challenges and event type of games which test how fast you are and how smart you think. Though, the game modes that are adventurous are pretty amazing. If you're a fan of Kirby64, The Crystal Shards, then you will def. love this 2D platformer.
The best part of both the SNES Kirby Super Super Star and the DS Kirby Super Star Ultra is the fact that Kirby has so many powers that you won't know what to pick. Like I said, if you like Kirby64, then you remember the fun powers you could use to go through the game. Just imagine doubling, maybe even tripling the powers of that game, hell, I can even say go four times the powers and safely state that there's that many powers! That was the best part of Kirby, he could go on and on with the amount of powers he had and none of them ever got old! The DS version Kirby Super Star Ultra is a remake which kept those many powers to help Kirby on his many adventures. Although, what kind of adventures can Nintendo possibly create for Kirby? Well, going after King DeDeDe and Meta Knight are def. the many unforgettable battles that I can think of. Especially all their baddies whom you battle throughout your adventure. I'm sure I can list all of them, but you know, that takes out the excitement of you wanting to play the game!
I know there are a lot of people who play any of the Super Smash Brothers games for whatever console they like, but Kirby really, really is underrated in those games. Especially with these new Kirby games which don't even keeps the full potential of Kirby being a major game character in the Nintendo world! Though, I can say, if you love Kirby from how he is presented now, then you will seriously fall in love with the retro Kirby.
I can promise you among the many, many powers that Kirby has, there is also many games modes, game styles, and an overall amount of characters and stories which will keep you playing the game for hours and hours. It's really a fun, great adventure. There's also a load of secrets which you will be dying to find out throughout the game. Don't worry; I'll shhh so you can find out what they are!
So, what's the difference between the SNES and the DS remake? Well, there's not much. They upped the color of the game. The graphics are a lot better than what there were back in the day (duh!). If you like happy hardcore music, then you will rock out to just listening to the game as you play it. And really, whether it's the SNES or DS Kirby, they both have awesome music. Sure, maybe not as good as Gusty Gardens from Super Mario Galaxy, but almost! The difficulty of the game isn't too bad. It's actually fairly simple, but it's long and challenging at some parts. You really have to have good timing because Kirby is easily pushed around in the game. Though, don't fear! You have a "helper" who will keep you in order. Oh, oh! I won't give more information away on that so you can figure it out for yourself! I guess the best part is the fact that you can really make more out of the game with the amazing Kirby powers; like…just playing around with them and causing things to happen. But, as I said, the game isn't too hard (even though it seemed really, really hard when I was younger). Now, there might not be a huge difference compared to the Mario remake for the DS, but it's just a semi-ported game because I guess the original SNES version never became popular. Though, really…Nintendo wouldn't release a DS version if they didn't think it would be worth it. And really, it is worth it.
Really, I could go on and on for awhile, typing what I think of this classic game, but real Kirby fans will know and remember. It's been a decade, maybe even longer since a lot of us have seen a REAL Kirby game and I promise, this game is def. not one to upset you. Please, please; try the game, look at screenshots and/or videos and experience how Kirby really is. You will fall in love with Kirby and I'm sure maybe Nintendo might notice once again how much potential Kirby has.
Go buy and try Kirby Super Star Ultra for the Nintendo DS! Experience the awesome, real puffy pink experience today!
I don't know what to rate it, but I surely will rate that it won't keep you bored and unhappy! It will satisfy your need and urge for a good Nintendo game.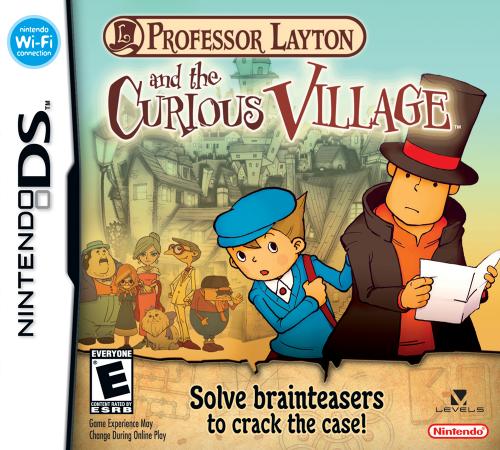 Game Info
System: Nintendo DS
Category: Puzzle Adventure
Players: 1
Release Date: February 10, 2008
Publisher: Nintendo
Over the past few months, gaming enthusiasts have come to understand that casual games are a dominant force in the market and that these types of games have the staying power that is needed in the video gaming industry. The incontrovertible success of casual games – much to the dismay of longtime videogame fans – has caused a heated debate. Will the videogame market eventually become dominated only with games that a player can pick up and play? As Zelda and Mario change from hardcore to "bridge" games, will they eventually be tweaked to the point at which no challenge will be presented to the player at all? And finally, as Japan continues to ignore traditional games such as Metroid, will developers try to cash in on simple titles?
Brain Age, Wii Sports, Wii Fit. These are titles that appear to be more "mainstream" and, therefore, can draw in a significant number of videogame newcomers. Professor Layton is another of these casual games, and, unsurprisingly, it has done remarkably well in the Japanese market. In fact, two games in the series have already been released in The Land of the Rising Sun, and one more is in development. As much as videogame loyalists appreciate hardcore games, Professor Layton deserves an equal chance, as it is a charming puzzle game, which suffers only from a few, but noticeable flaws.
The game begins with Professor Layton and his protégée, Luke, traveling to the village of St. Mystere after receiving a request to investigate a certain situation. Following the death of Baron Augustus Rheinhold, an extremely wealthy man, a mystery erupts. At the reading of Rheinhold's will, a "Golden Apple" is mentioned. The person who discovers its hidden location will reap a huge reward – Rheinhold's entire estate. The Golden Apple is an enigmatic item. No one quite knows exactly what this object is and ultimately, no one is able to find it. Professor Layton, in the meantime, believes that the Golden Apple possesses an underlying connection to a grander mystery. As a result, Professor Layton and Luke head off to St. Mystere, determined to unravel the entire mystery.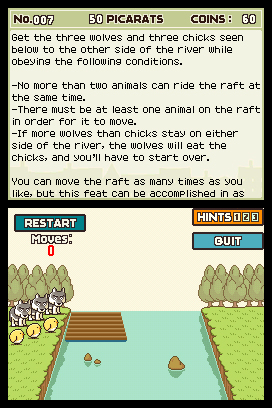 Professor Layton and the Curious Village is best described as a point-and-click puzzle adventure. Most of the time, you will be exploring the many European-like settings on the touch screen in search of hidden puzzles and hint coins that will aid you in your puzzle-solving bouts. The most surprising aspect about the whole game is how well the puzzles are interlaced into the storyline. Most developers usually follow a safe approach, thus it is both a surprise and a delight to see a game not falling victim to conformity. A tap of the stylus is needed to travel from place to place and to converse with the locals of St. Mystere – whom, by the way, always have some puzzle in store for you to attempt to solve. Only in a handful of situations will you be forced to solve certain puzzles in order to progress. This is probably the best approach, as some may find unraveling all of the puzzles in the game to be a bit challenging.