Besides Fatal Frame IV, another horror title gamers have been interested in seeing brought to the states is Fragile. The title was published by Namco in Japan, but there haven't been any murmurs of a release in North America. However, XSEED Games is "looking into" bringing Fragile over.
"Appreciate the heads-up on Fragile, it's a title that's been requested many times before so we're looking into it. To everyone that's written in to us, we will expect everyone to get their pre-order in the week that we announce it if we should get lucky enough to work on such a great looking title." – Ken, XSEED Games
Thanks for the news tip, Jake.

Release Date: Winter
Genre: Adventure
Platform: Nintendo DS™
Rating: TBC
Developer: Capcom®

Ace Attorney Investigations: Miles Edgeworth takes the Ace Attorney series from the courtroom to the crime scene, leaving the legal battle behind while bringing the action to various crime scenes.

This time around, the player takes on the role of famed prosecutor Miles Edgeworth, a memorable rival of charismatic legal eagle Phoenix Wright. Edgeworth actively investigates crime scenes in order to pursue the truth behind each case. By solving the challenging puzzles presented him, Edgeworth will work with the police to bring criminals to justice.

The first few details on Red Steel 2 are now available, thanks to the latest Nintendo Power.
– Still in first-person
– Cell shaded graphics
– Dev team aiming for a "T" rating for the game
– "The gore just doesn't fit for us and what we're trying to do"
– Will not have multiplayer
– Exclusively Wii MotionPlus
– May have some dual wielding gun + sword mechanic (nothing confirmed yet)



"We're using Mighty Flip Champs as a way to gauge fan interest, and to see how the DSiWare service performs. We'd like to do a Shantae sequel for DSiWare." – Matt Bozon (Designer/Director)
I'd kill (not literally) to see another Shantae game. I'd be perfectly fine if the game would be released for DSiWare. Hopefully Mighty Flip Champs will actually sell, though!

Even with all of the information that has become available following CAPTIVATE 09, Capcom is teasing more surprises for E3. According to the company, two new games will be announced. This comes from Capcom's official twitter account but unfortunately, no hints were provided as to what will be shared when the event begins. The wait will not be too long, however, as E3 starts in a little over a month.

This is a downloadable play, not a retail play. We don't actually have any retail rights on this project. And there's no way to get anywhere near the Wiiware filesize limit here." – Christian Svensson, Corporate Officer/VP of Strategic Planning & Business Development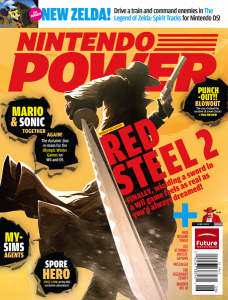 The upcoming issue of Nintendo Power promises to have the scoop on Red Steel 2. Previously, NGamer was supposed to have an exclusive on the game, but that never fell through. The next issue of Nintendo Power goes on sale May 12. Meanwhile, the magazine has put the table of contents online and reconfirms that the game will utilize Wii MotionPlus (in addition to a reconfirmation that the game still exists). You can latch onto this until information pours in: Nintendo Power says, "Finally, wielding a sword in a Wii game feels as real as you'd always dreamed!"