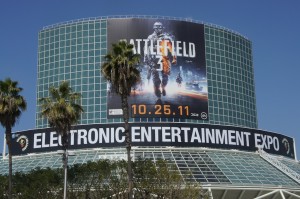 So, the internet in our hotel is about dial up speed, which means I had to let this upload overnight and then attempt to put it up this morning. Basically we just talked about everything we played yesterday, such as Super Mario 3D, Kid Icarus, Skyward Sword, etc etc, and then we answer your questions as well! It's a good time overall, so check it out and listen to it while you continue to catch up on all the E3 news!


*Note- this feature article was not written by me. I did not write this. This is not from me. It was written by somebody else. It was written by Jack from GamingEverything.
Day One at E3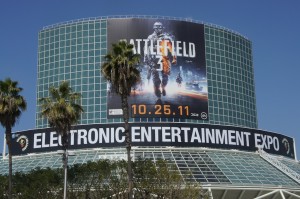 After arriving at the Los Angeles Convention Center in downtown LA with Laura via bus, Austin, Laura, and I walked into a gigantic line, which we presumed to be the line to determine your place in line for the major company's demo booths. Since waiting in line is a bit less fun than eating, we decided to check out the media hospitality room to grab some free grub. Unfortunately, we were greeted with another line, and after a thirty minute wait while chatting and taking photos with a cool dude from XboxPulse.com, we received some filling chicken sandwich meals.
Once we got done stuffing ourselves with free food, we hopped on over to the enormous West Hall to see all that Nintendo had to offer. Austin was the only one of us who got to see the Nintendo press conference in person (or at all, for that matter), and since I had been busy getting to the convention center earlier that morning, I had only heard secondhand reports of the goings-on in the Nokia Theater at that point. I was very excited to see the new system in person, to demo all of the announced 3DS games, and hopefully to put my Skyward Sword fears to rest. Once again however, there was a monstrous line waiting for us, so monstrous that we were unable to get hands-on with the freshly christened 'WiiU' that day (you'll be able to see the six hour line in all its glory in That One Show: Episode 17).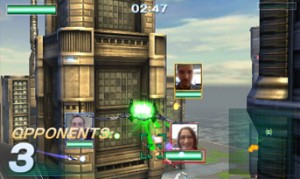 Remakes and rehashes are becoming ridiculously popular these days, and I can only assume it's for the simple reason that they're cheaper to produce than creating a whole game from scratch, and they have a higher chance of success than their more original counterparts. That being said, remaking an old classic isn't always a bad thing, but you really have to be careful with how you portray it.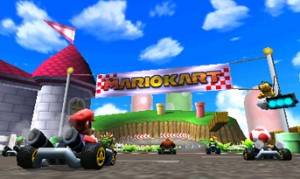 I don't know what that title means, but Mario Kart 64, when I was a kid, seemed like a bit of a magical venture. The courses, music, and multiplayer functionality were just too good to be true at the time, but as I grew older I began to appreciate more the subtleties with which the games were created; from drifting and drafting, to the distribution of items and item effects. When I sat down (errr.. I think I was technically standing up) with Mario Kart 3D today, 19 years after the original released for the SNES, I came to a very happy conclusion: It's mostly more of the same, but that's definitely a good thing.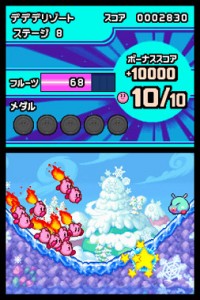 I was waiting in line to try out Nintendo's new Skyward Sword demo when one of the gazillion representatives who seemed almost entirely uninterested in video games (I give them credit for pretending, though) walked up to me with a DSi XL and a game that I had heard very few things about. It was Kirby: Mass Attack, the incredibly interesting and intriguing side-scrolling RTS made for the old school DS that I had avoided playing like the plague for two reasons:



Sitting down inside the Nokia Theater for the first time to see Nintendo's E3 press conference was incredibly electric. Everyone knew that we'd be seeing the first of a new system today, and after each trailer finished and announcement was wrapped up, everything would lean forward hoping that the next order of business was the mysterious 'Project Cafe'. After half an hour or so, our wishes were granted, and we saw footage of what everyone was waiting for. Still, I couldn't help but feel a little underwhelmed at the whole thing.
Sure, the curtain was pulled back on the WiiU, we got some new info on games like Skyward Sword and Super Mario 3D, and there were a plethora of new game announcements from third party developers, but at the end of the day, everything felt a little under-done.



E3 is so, so close. We're just a few days before Nintendo spills their guts about their brand new console and many other games that fans will be looking forward to. It's such a strange feeling that their conference is almost here, since, to me at least, it feels like E3 2010 just ended! Perhaps I'm still on a high after the impressive showing Nintendo had last year.
E3 2011 is comparable to last year's event for many reasons. In particular, we know that Zelda: Skyward Sword will once again be prominently featured. Also just like 2010, we know of a bunch of titles that will be at the show: Ocarina of Time 3D, Star Fox 64 3D, Kid Icarus: Uprising, and Super Mario 3D,  just to name a few. Arguably, those titles alone would be enough to say that Nintendo had a successful E3.
Yet that's just the tip of the iceberg. If you're a gamer, chances are that you have at least some interest in Project Cafe. Not everyone will be planning on purchasing it day one. But surely it piques one's curiosity at least somewhat. After all, new hardware always receives attention.


Also, I'm starting a new "That One" thing called "That One Roundtable"! Think of it as a sort of podcast, but more focused and a little bit shorter, released whenever there's something to talk about. Look forward to seeing these get better and better as time goes on!
That One Roundtable – E3 2011 Predictions: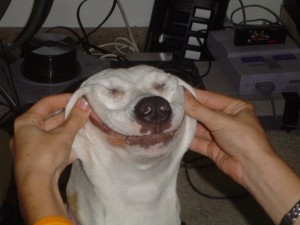 If you watched the latest episode of 'That One Show', you know that our new friends at Rocketfish gaming accessories have offered to give all you cool cats some free stuff, so I said I'd do it, but only if I could challenge all of you to a test first. After much coercion, they agreed that I could test you, as long as it didn't permanently damage you in any way.
Despite my disappointment at the above prerequisite for my plan, I decided I'd just put your Nintendo knowledge on the stand with a little question. All you gotta do is answer it either in the comments, via YouTube, via e-mail, Facebook, Twitter, etc (as long as I see it), and then if you get it right, you'll be put in a random selection to win one of these: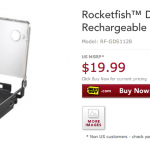 We have a total of five to give away, but I'm only giving away two this week. Here's your question:
Nintendo is soon to release a line of "Nintendo Select" titles for the Wii that will offer some of the best titles on the system, including Twilight Princess and WarioWare, for just $20. Before the Wii, what did Nintendo call it when they rereleased games at lower prices, such as The Legend Of Zelda Four Swords Adventure on Gamecube? For bonus points, name the first game system to ever use this idea of rereleasing games.
If you win, we'll e-mail you. The only rule I can think of is that you (unfortunately) have to live inside the United States to receive one. Sorry, international crowd! We love and respect you, but shipping costs are ridiiiiculous.