Even though the OFLC rated Disaster: Day of Crisis last week, the game doesn't seem to be scheduled to release this year. According to Nintendo of Australia representative Heather Murphy, Disaster is "definitely not" going to release this year. This news isn't entirely surprising after Cammie Dunaway's comments about Nintendo showing all of its guns for this year. At the same time, I don't know why the OFLC would rate the game if it's not due for a number of months.

Remember the "dark game" IGN revealed a short time ago for the Wii? Well, now an official trailer has been released at the Games Convention, with all sorts of gloomy elements.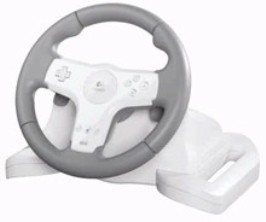 To give you a more realistic driving experience on your Wii, Logitech today announced the Logitech(R) Speed Force Wireless(TM) racing wheel – the first force feedback wheel for the popular gaming platform. Licensed by Nintendo, Logitech's newest force feedback wheel works with Electronic Arts' Need for Speed(TM) Undercover and paves the way for more force feedback racing titles on the Wii console.

"We're excited to team up with Nintendo and Electronic Arts to bring driving realism to the Wii and Need for Speed Undercover," said Ruben Mookerjee, Logitech's director of product marketing for gaming. "Logitech has been at the forefront of force feedback technology for more than a decade, and we're confident that our driving platform will be an indispensable part of the racing experience on Wii as more titles that support it become available."

"As the world's most popular racing franchise, Need for Speed is committed to delivering players superior racing experiences," said Larry LaPierre, Vice President at Black Box, developer of Need for Speed. "This November, Wii gamers can fully experience the thrill of the chase in Need for Speed Undercover with Logitech's force feedback realism."


1. [NDS] Rhythm Tengoku Gold (Nintendo) 137,000 / 480,000
2. [PSP] Phantasy Star Portable (SEGA) 74,000 / 564,000
3. [NDS] Dragon Quest V (Square Enix) 74,000 /1,092,000
4. [WII] Wii Fit (Nintendo) 47,000 /2,516,000
5. [WII] Mario Kart Wii (Nintendo) 36,000 /1,692,000
6. [NDS] Fire Emblem: New Shadow Dragons and (Nintendo) 35,000 / 180,000
7. [NDS] Band Brothers DX (Nintendo) 24,000 / 280,000
8. [NDS] Drum Island??? (NamcoBandai) 20,000 / 282,000
9. [PS2] Power Pros 15 (Konami) 19,000 / 161,000
10. [WII] Wario Land Shake (Nintendo) 18,000 / 76,000

1 – WII – Mario Kart Wii w/ Wheel
2 – WII – Wii Fit w/ Balance Board
3 – DS – Guitar Hero: On Tour w/ Guitar Grip
4 – WII – Wii Play w/ Remote
5 – DS – Brain Age 2: More Training in Minutes a Day
6 – DS – New Super Mario Bros.
7 – WII – Rock Band Special Edition Bundle
8 – 360 – Sid Meier's Civilization Revolution
9 – PS3 – Rock Band Special Edition Bundle
10 – WII – Guitar Hero III: Legends of Rock w/ Guitar

Street Fighter IV producer Yoshinori Ono has gone on the record with 1UP and admitted that the game is "definitely doable" on Wii. Moreover, in the same interview, Ono reaffirmed that if there is a strong possibility in terms of satisfying sales, Capcom would be up for bringing Street Fighter IV to the Wii. "Yeah, it's definitely true that we've had a lot of requests for a port for the Wii. And it's definitely doable. We just don't have any plans for it yet, that's all. If we feel strongly enough that it would sell, I'd imagine we'd do it."
My question is, since there seems to be a pretty strong demand for the game on Wii, shouldn't Capcom be considering the possibility more? If not, this could still be a sign. In the future, it does seem probable that Capcom will port or bring the game to the Wii somehow…It might just be a matter of when.

The Leipzig trailer seems pretty similar to the E3 one, but have a look anyway!
– Games Convention trailer featured Dracula, Simon, Aeon, Alucard and Maria
– The game isn't sticking to a specific timeline
– Choose any character to follow
– Koji Igarashi said it was difficult to get the Wiimote controls right, thinks it works well now
– Coming in 2009