– Party Play mode for drop-in/drop-out play
– online and offline competitive modes such as Rockfest
– Mii Freestyle returns alongside GH Tunes
– competitive/co-op mode that works with DS called Roadie Battle
– 8 player online support (not just two Wiis, but eight Wiis)
– features on-par with 360/PS3 versions
– no Wii system memory needed to download songs
– no in-game friend codes
– global Wii friend code for automatic addition of address book friends
– improved sound quality
– save/share GH Tunes creations through WC24
– DS connectivity for a Stage Show Manager/music video creator for Mii Freestyle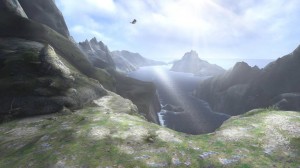 Just how impressive are the graphics in Monster Hunter 3? Well, apparently they stunned Nintendo designers and members of the Zelda team. In an Iwata Asks interview, Nintendo's boss stated that the Zelda devs were under intense pressure after seeing how the game looked. Perhaps this is an indication that the visuals in Link's next outing will be a top priority.
Members from the Monster Hunter 3 team also noted that they understood Nintendo's console hasn't been known for featuring the most excellent graphics, but that they are imperative to the Monster Hunter experience. Therefore, the team was striving to make Monster Hunter 3 the best-looking title on the platform.
There were a number of other details from the interview, some of which you can check out below.
– Motion control was considered at one point but was cut because it would be too tiring for gamers playing for long hours
– The game almost didn't make an appearance at TGS last year because they had just finished mapping the controls – There was relief when good feedback for the Wiimote was relayed
– Nintendo approached the team regarding the Classic Controller Pro – This marks the first time Nintendo has worked with a third-party company to create new Wii hardware

– Most of the music has been replaced
– Exploring about 3-4+ new characters – want to have the Tatsunoko and Capcom sides balanced
– Sequels, if they exist, will probably be on Wii
– Hakushon Daimao not in the game
– Trying to create smooth online experience with leaderboards
– No WiiSpeak support for now but it may end up in the final product

Nintendo Wii
North America:
1. Wii Sports Resort (Nintendo)
2. Dance Dance Revolution Hottest Party 2 (Konami)
3. Wii Fit (Nintendo)
4. EA Sports Active (EA Sports)
5. Mario Kart Wii (Nintendo)
Japan:
1. Wii Sports Resort (Nintendo)
2. Wii Fit (Nintendo)
3. Kyoufu Taikan: Juon (AQ Interactive)
4. Mario Kart Wii (Nintendo)
5. Punch-Out!! (Nintendo)
UK:
1. Wii Sports Resort (Nintendo)
2. EA Sports Active (EA Sports)
3. Wii Fit (Nintendo)
4. Wii Play (Nintendo)
5. Mario Kart Wii (Nintendo)

Nintendo DS
North America:
1. Rhythm Heaven (Nintendo)
2. Mario Kart DS (Nintendo)
3. New Super Mario Bros. (Nintendo)
4. Pokemon Platinum (Nintendo)
5. Brain Age (Nintendo).
Japan:
1. Dragon Quest IX (Square Enix)
2. Tomodachi Collection (Nintendo)
3. Puyo Puyo 7 (Sega)
4. Okaeri! Chibi-Robo! Happy Rich Oosouji (Nintendo)
5. Doki Majo Plus — Limited Edition (SNK Playmore)
UK:
1. Professor Layton and the Curious Village (Nintendo)
2. Club Penguin: Elite Penguin Force (Disney)
3. Pokemon Platinum (Nintendo)
4. Junior Brain Trainer DS (Avanquest)
5. Mario Kart DS (Nintendo)

Even before concept art for Zelda Wii was officially shown at E3 2009, a majority of fans were in agreement that the game should support Wii MotionPlus. However, there were some contradicting statements made by Shigeru Miyamoto coming out of E3. During his roundtable event, Miyamoto said that MotionPlus in Zelda Wii would be dependent on the sales of Wii Sports Resort. Then in an interview with Wired, he stated that "The goal at this point is that we would make Wii MotionPlus required in order to play Zelda."
Zelda followers can rest a bit easier today though, as it's almost 100% safe to say at this point that MotionPlus will be in Link's next adventure. Nintendo's Senior Manager of Product Marketing, Bill Trinen, spoke in a number of different interviews about the peripheral, and provided basically the same type of message – That Miyamoto said at E3 that the next Zelda game for Wii will use MotionPlus. So, I suppose Miyamoto's original comment at his roundtable is no longer significant.


This information comes from SEGA's Q1 2009 financial report…
PS3 – 2 SKU – 310,000
Wii – 6 SKU – 550,000
Xbox 360 2 SKU – 200,000
NDS 3 SKU – 180,000
PSP 2 SKU – 110,000
PC 2 SKU – 20,000
You can check out the full press release regarding the financial statements below. Highlights from the report include The Conduit sales numbers having come in at 150,000 units sold and Virtua Tennis 2009 is at 790,000 units sold.
During the first quarter of the fiscal year ending March 31, 2010, the Japanese economy continued to face uncertain prospects for recovery. Corporate business performance and the employment outlook in Japan worsened, and weak personal consumption persisted, due to the global economic recession that has grown more acute since last year.


This email was just dropped in my inbox. For now, the game is heading to WiiWare and PC, but there are negotiations in place to bring the game to retail as well.
Fans of roleplaying and strategic games, who are interested in round based fighting systems, should keep the name Grotesque Tactics: Evil Heroes in mind.

The German developer studio Silent Dreams is working on a tactical RPG for PC Digital and WiiWareTM, that should be released in the fourth quarter of this year.

SOUNDTRACK TO CULT FAVORITE THIS IS SPINAL TAP COMES TO ROCK BAND

Plus tracks from Black Sabbath and Foo Fighters for Wii and songs from Jane's Addiction and Styx for Rock Band Unplugged!

Cambridge, Mass. – July 31, 2009 – Harmonix and MTV Games today announced they will be celebrating the 25th anniversary of the theatrical release of This is Spinal Tap, by making available newly recorded versions of the song s featured in the cult classic film and its 1984 soundtrack album. The songs will be available in the Rock Band Music Store of downloadable content next week on the Xbox 360® video game and entertainment system from Microsoft, PLAYSTATION®3 computer entertainment system and Wii™ system. With the addition of the Spinal Tap tracks, the Rock Band music platform now offers more than 800 songs to consumers via disc and download, and has surpassed more than 50 million paid downloads to date.

Additional tracks from Black Sabbath and Foo Fighters will be available in the Wii™ Rock Band Music Store, and tracks from Jane's Addiction and Styx will be available for Rock Band Unplugged.