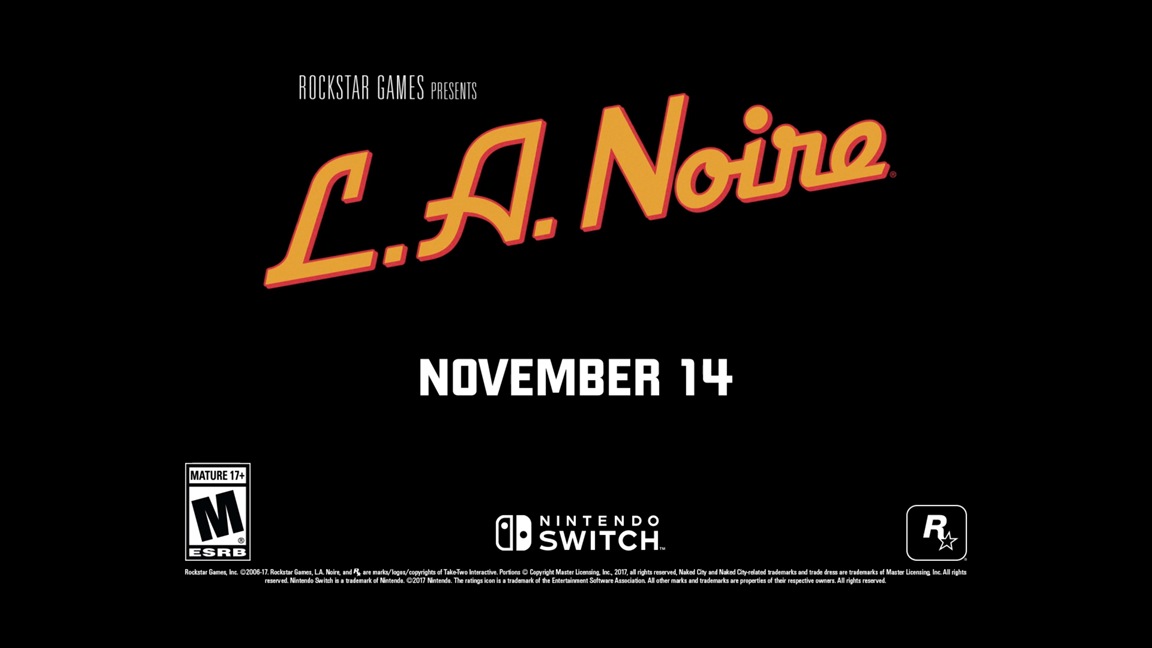 If yesterday's video wasn't enough, we have another look at L.A. Noire running on Switch with another round of off-screen footage. See the gameplay below.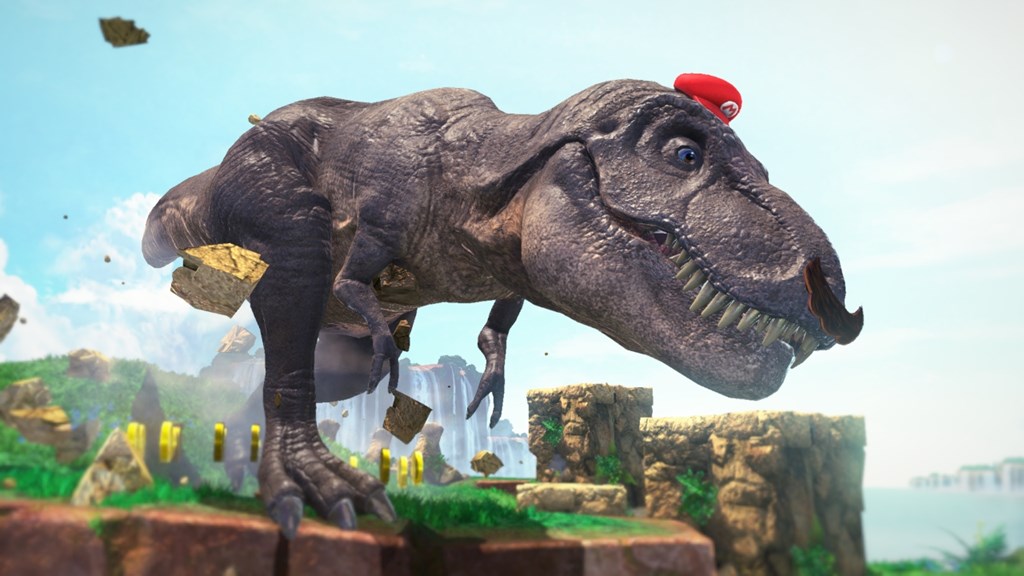 This week's Switch/ Wii U/3DS-specific UK software sales are as follows:
Switch
1. Super Mario Odyssey – Nintendo
2. Sonic Forces – SEGA
3. Mario Kart 8 Deluxe – Nintendo
4. Doom – Bethesda Softworks
5. The Legend of Zelda: Breath of the Wild – Nintendo
6. Splatoon 2 – Nintendo
7. 1-2-Switch – Nintendo
8. Mario + Rabbids: Kingdom Battle – Ubisoft
9. Pokken Tournament – Nintendo
10. FIFA 18 – Electronic Arts
Wii U
1. Minecraft: Wii U Edition – Nintendo
2. Super Mario 3D World – Nintendo
3. The Legend of Zelda: Breath of the Wild – Nintendo
4. Just Dance 2018 – Ubisoft
5. Donkey Kong Country: Tropical Freeze – Nintendo
6. New Super Bros. U + Super Luigi U – Nintendo
7. Just Dance 2017 – Ubisoft
8. Captain Toad: Treasure Tracker – Nintendo
9. Wii Party U – Nintendo
10. Splatoon – Nintendo
3DS
1. Mario Kart 7 – Nintendo
2. New Super Mario Bros. 2 – Nintendo
3. Super Mario 3D Land – Nintendo
4. Miitopia – Nintendo
5. Tomodachi Life – Nintendo
6. Luigi's Mansion – Nintendo
7. Pokemon Sun – Nintendo
8. Layton's Mystery Journey – Nintendo
9. Mario & Luigi: Superstar Saga + Bowser's Minions- Nintendo
10. Super Mario Maker – Nintendo
Source: Chart-Track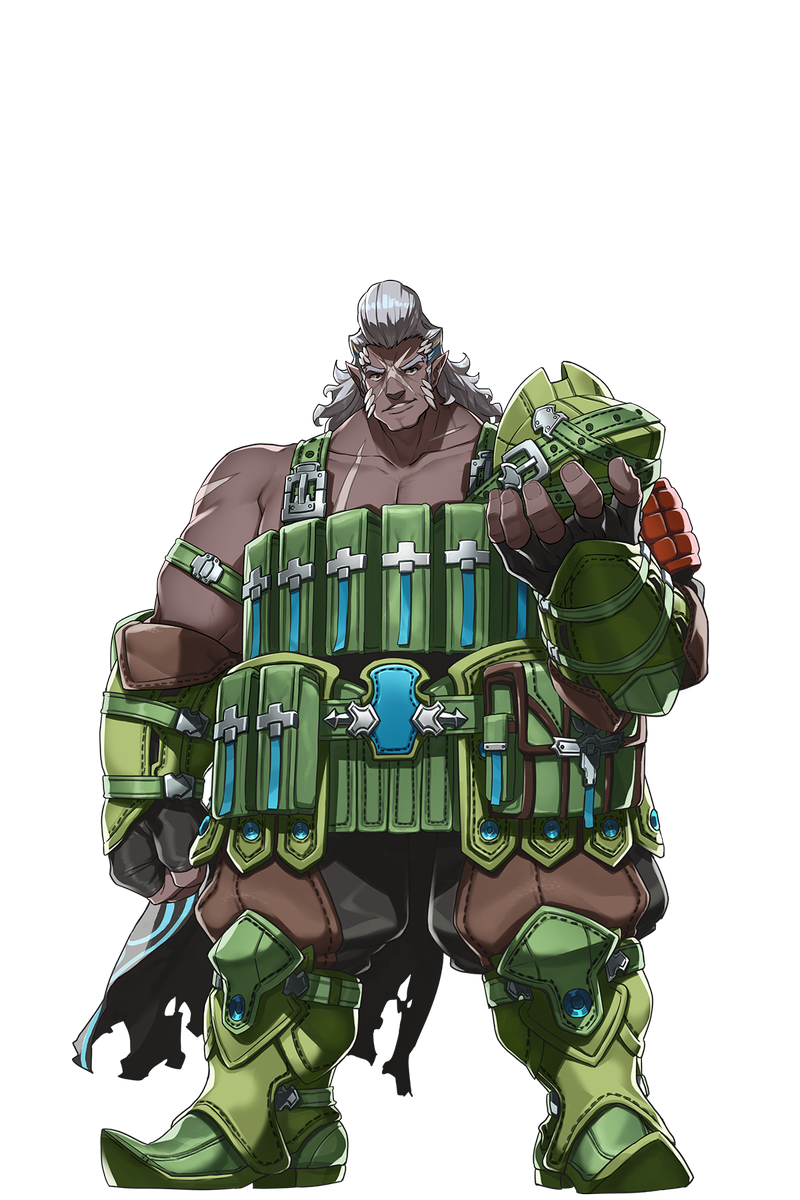 Vandham, leader of a mercenary band, was shown off on the Xenoblade Chronicles 2 Twitter this time around as well as his blade Suzaku. Vandham is voiced by Tesshou Genda and his blade is voiced by Takahiro Fujimoto. You can check out both characters in the Tweet down below.
インヴィディアの傭兵団をまとめ上げるタフガイ「ヴァンダム」(ボイス:玄田哲章さん)をご紹介!
鳥のような姿をしたブレイド「スザク」(ボイス:藤本たかひろさん)と息を合わせて戦う、手ごわいドライバーですも。 pic.twitter.com/pIoMsICAeu

— ゼノブレイド2 (@XenobladeJP) November 13, 2017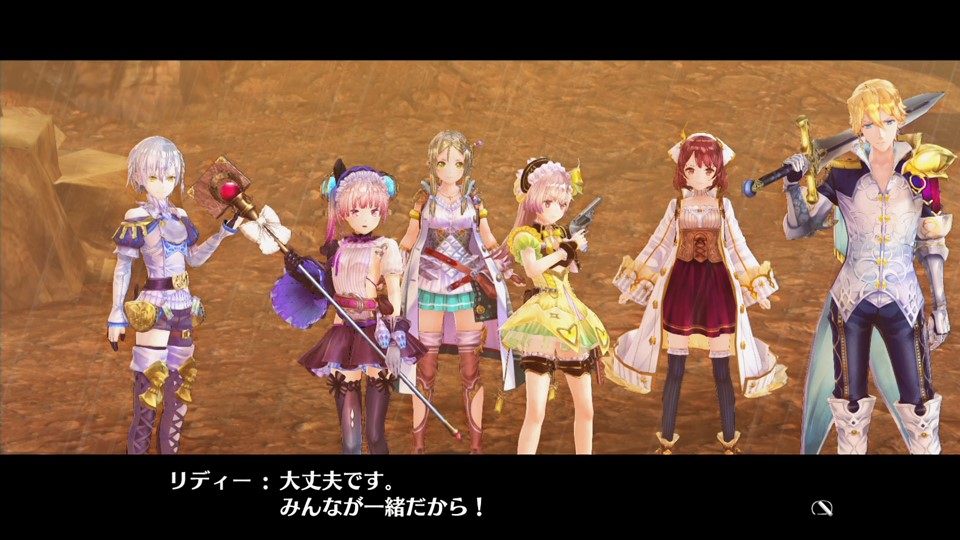 Koei Tecmo released a new wave of Atelier Lydie & Suelle: Alchemists of the Mysterious Painting screenshots. The images show off the latest characters and gameplay systems covered in this past week's issue of Dengeki PlayStation. View the screenshots below, and catch up on the information that we previously posted here.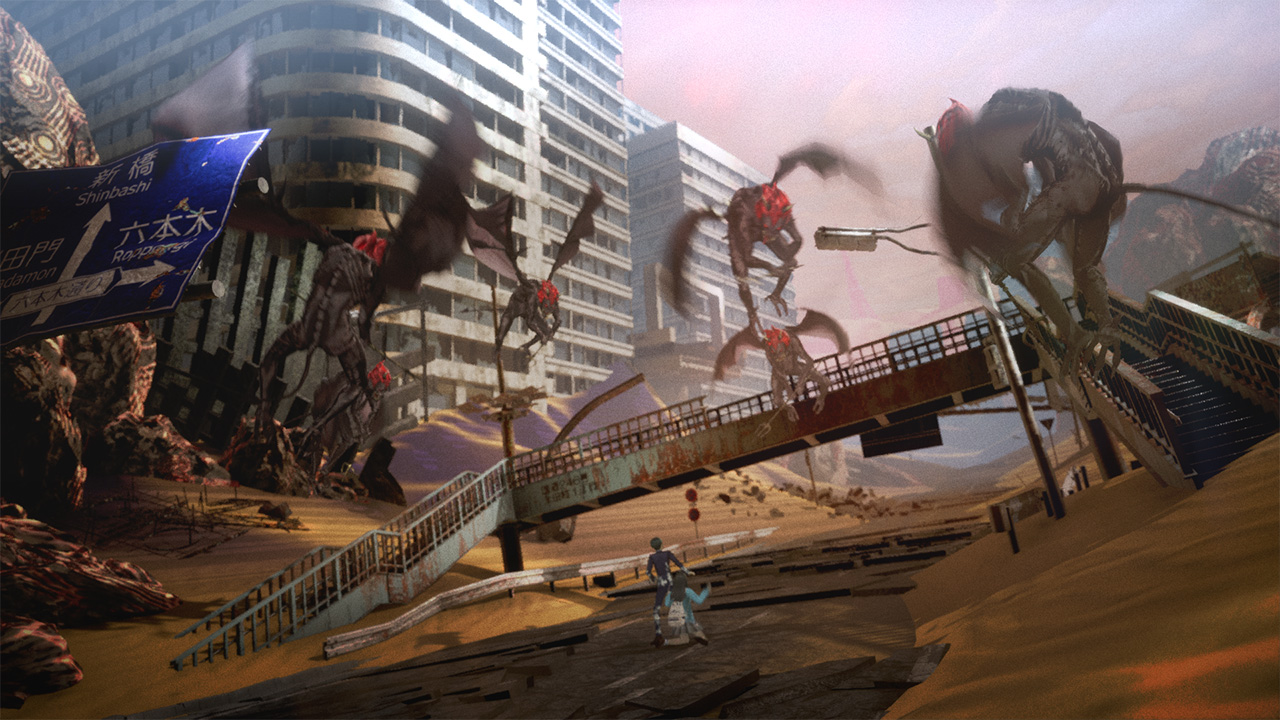 It's time for the latest Famitsu's most wanted games chart. Xenoblade Chronicles 2 enters the top five, and Shin Megami Tensei V makes its first appearance.
Head past the break for the full chart. All votes were cast between October 26 and November 1.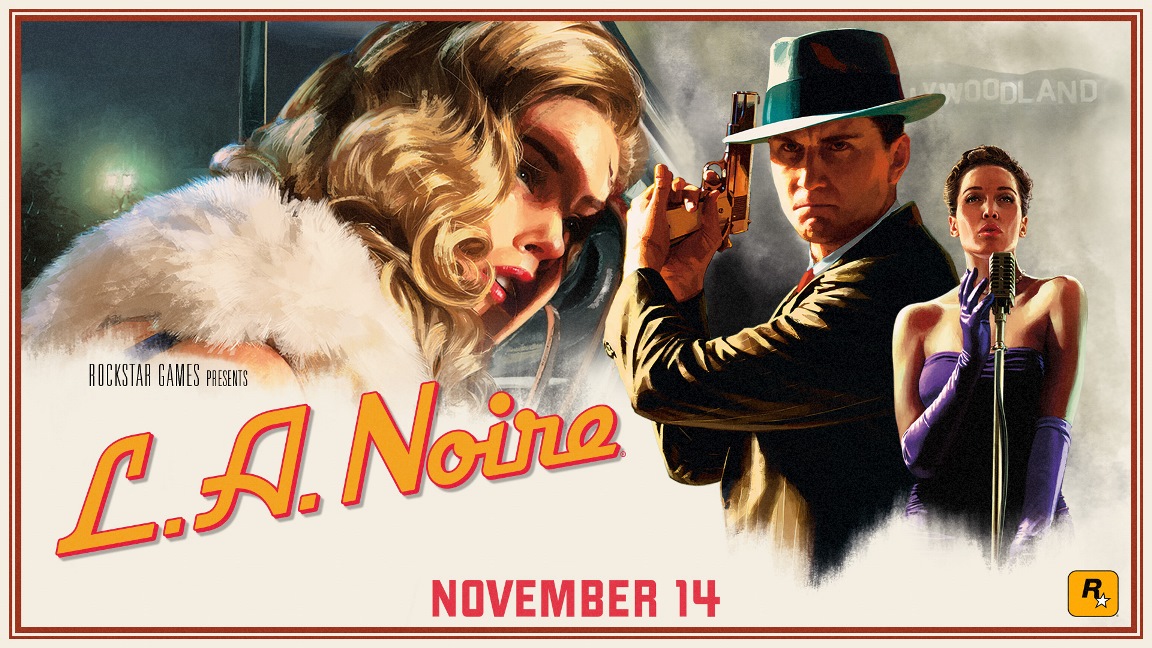 A little bit of off-screen footage has come in showing what L.A. Noire looks like on Switch. Get a look at the brief snippet of gameplay below.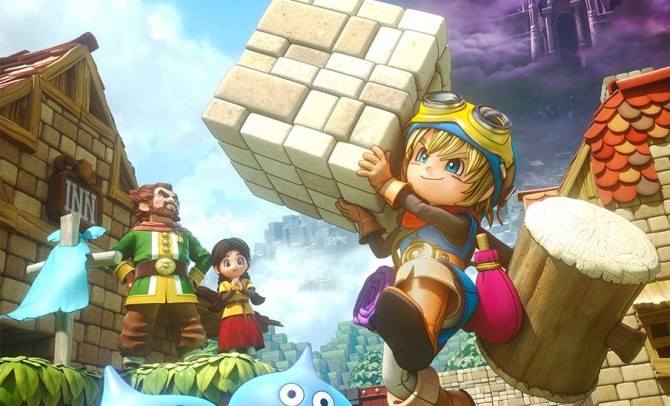 Square Enix has not one, but two Dragon Quest Builders game coming to Switch. The sequel was actually announced before the first game for Nintendo's console. And then during the latest Nintendo Direct, the original Dragon Quest Builders was confirmed for all regions on Switch.
Interestingly, it seems as though Nintendo will be publishing the game in the west. No one seems to have really picked up on it or at least discussed it, but Dragon Quest Builders is listed with various other first-party releases for Switch in the company's latest release schedule. Square Enix might be handling it in Japan, but at least overseas, it looks like Nintendo is publishing.
Thanks to Jake for the tip.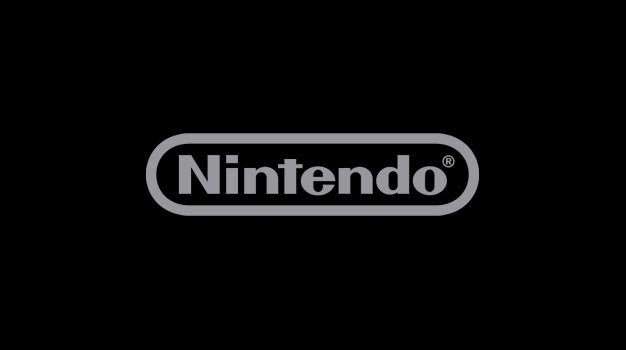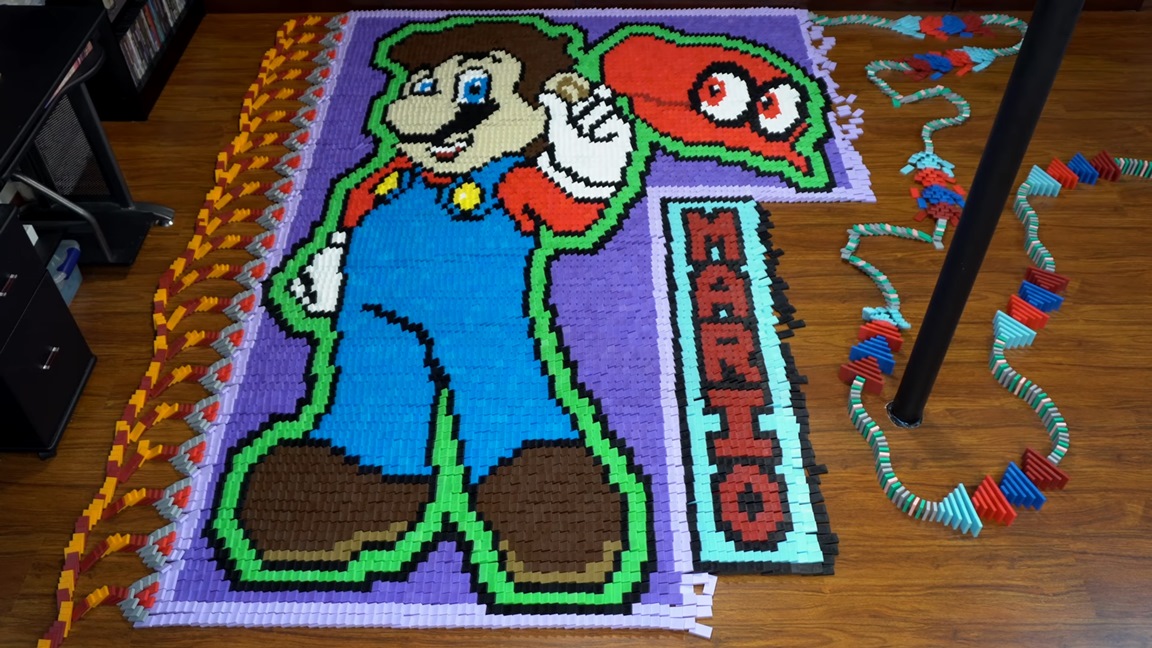 Super Mario Odyssey recently debuted on Switch, and TheDominoKing decided to celebrate in the only way he knows how. 148,777 dominoes were used to recreate images from the game, including Mario himself, Cappy, and more.
TheDominoKing used a screen link, meaning each clip was created separately and edited together to make it look like a single scene. Many would probably agree that what has been created here is nonetheless worth admiring and is undoubtedly a painstaking process. You can watch the full tribute below.