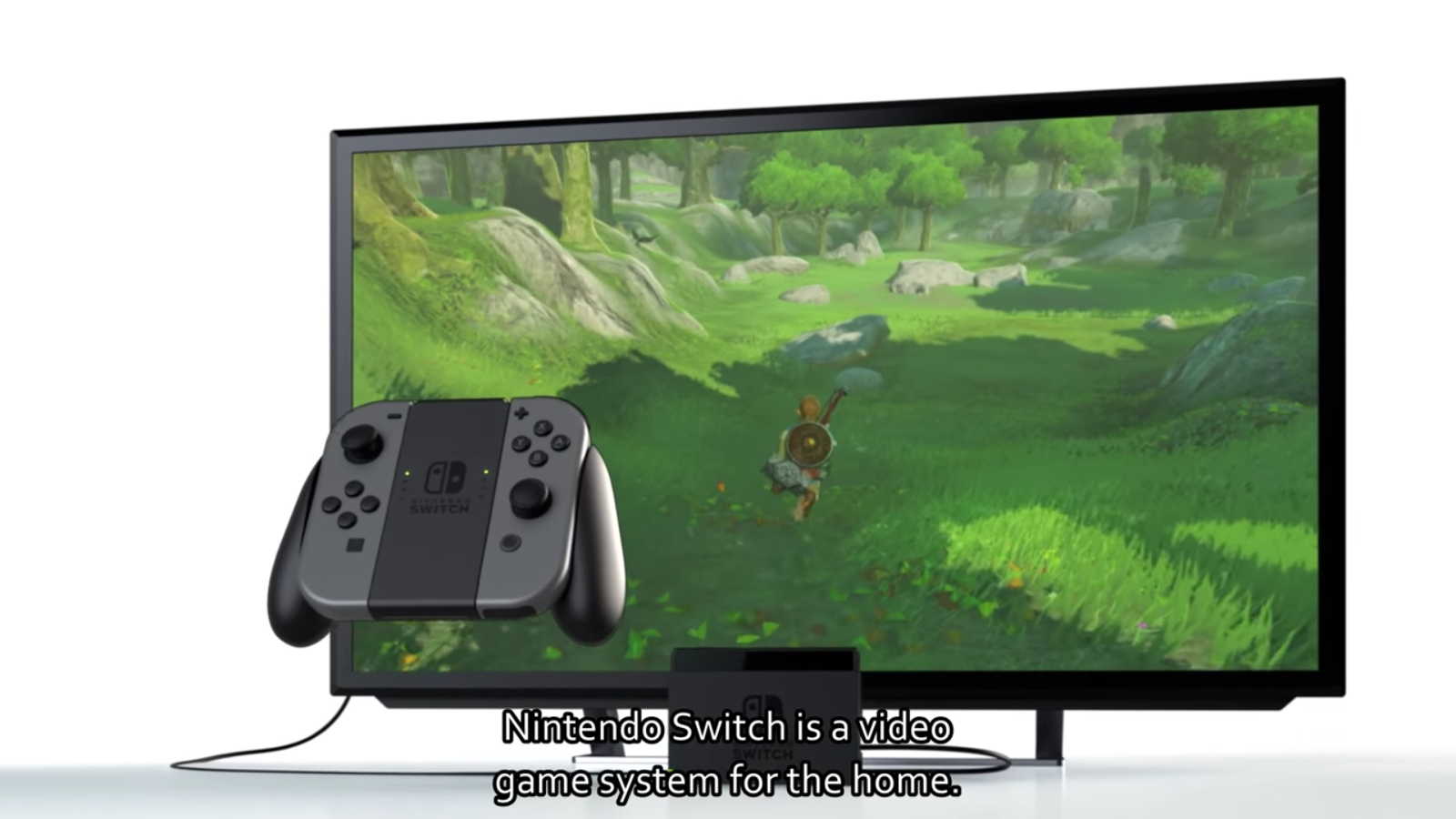 Nintendo UK just uploaded the following video, called "Introducing Nintendo Switch" to their Youtube channel. This is actually the video that was used in the Switch presentation earlier today, but with subtitles instead of an English voiceover. It gives a quick overview of the Switch's docking functionality and its Joy-Con controllers.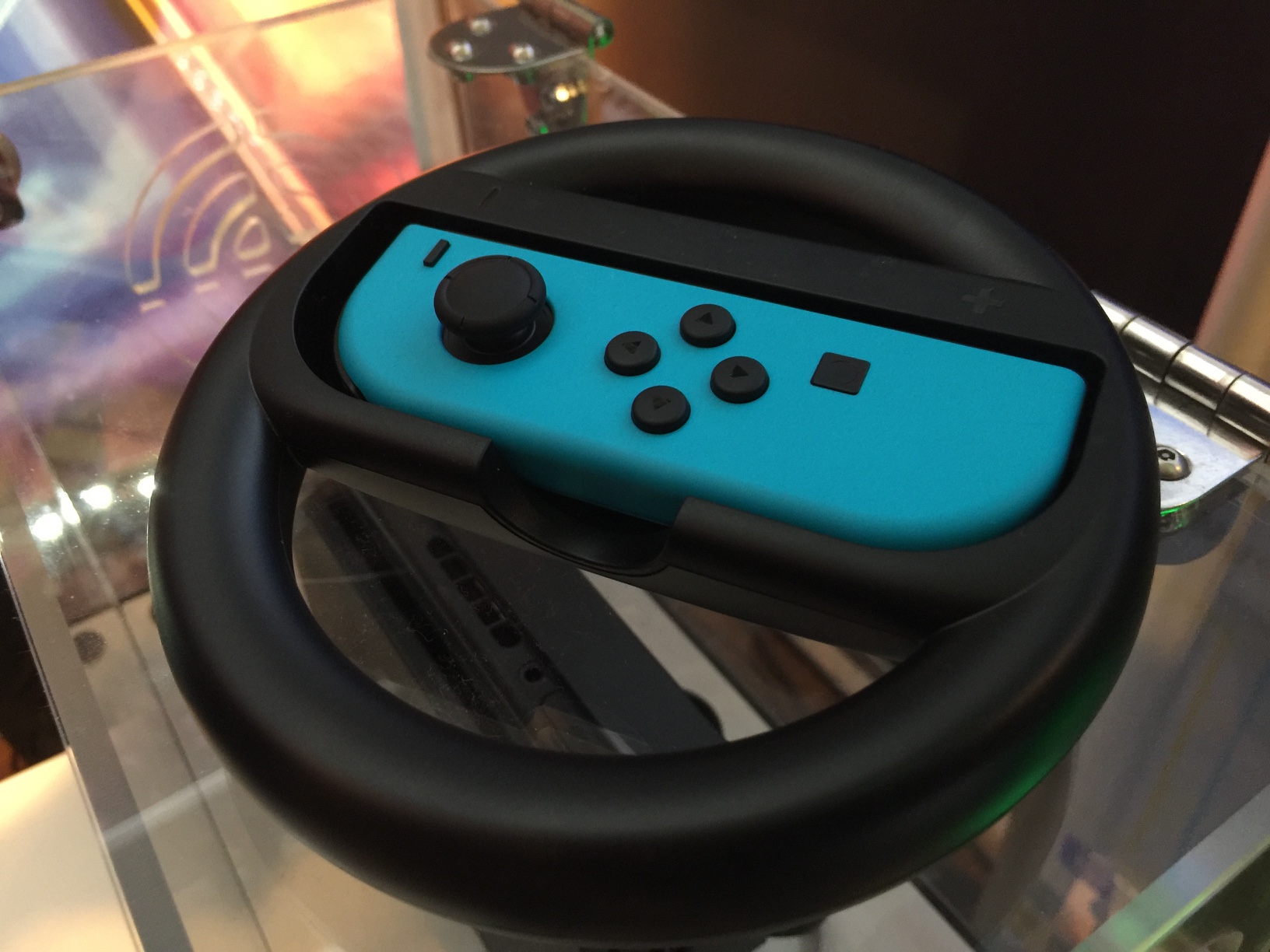 Mario Kart 8 is getting an upgraded version on Switch – and so is one of the controllers compatible with the original version. Just like the Wii Steering Wheel, which you could slot a Wii Remote into, the Switch is getting its own steering wheel-type controller. It seems like either the left or the right Joy-Con can be placed into the slot in the middle of the wheel. There are also two shoulder buttons located on the back of the wheel: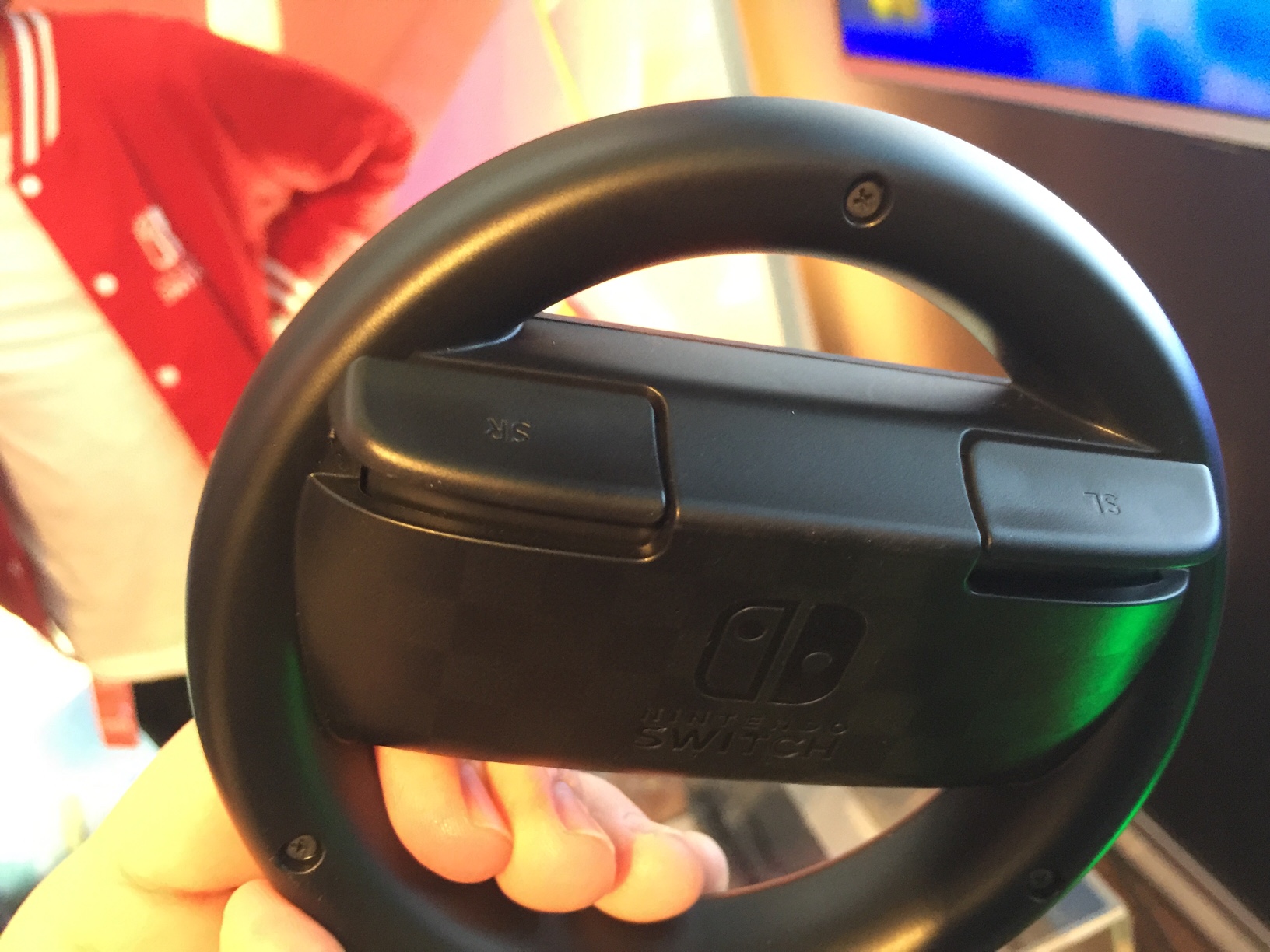 These pictures were obtained by Eurogamer at the Switch preview event in Frankfurt.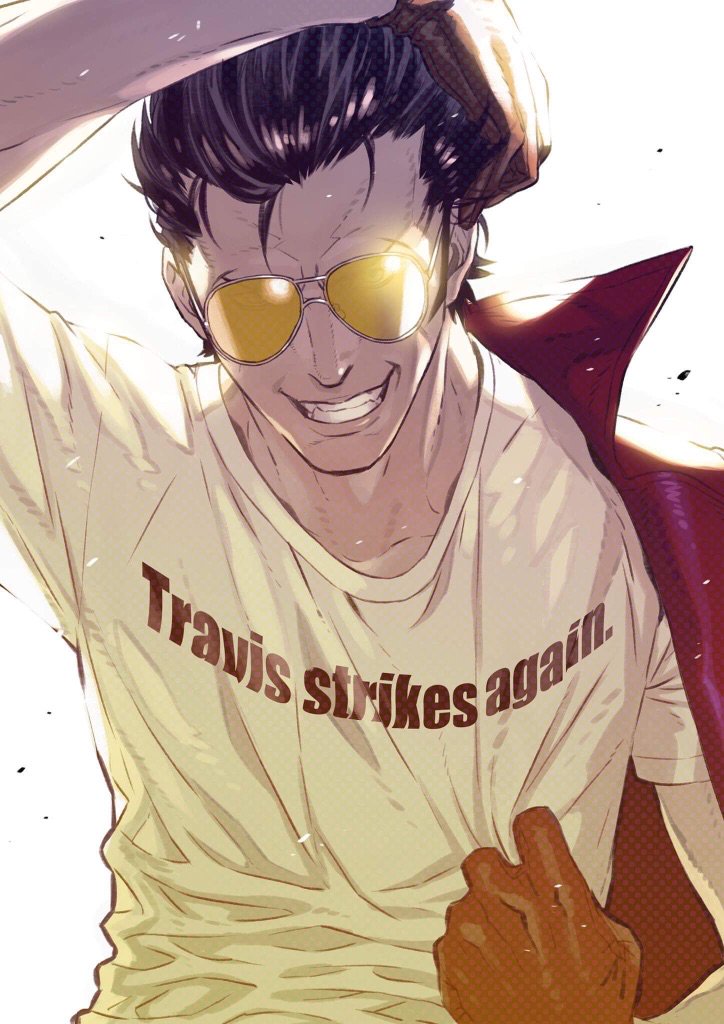 Suda51's appearance and his subsequent announcement of a new game featuring Travis Touchdown was definitely one of the biggest surprises at the Switch presentation. Suda51 has now posted the piece of artwork used to announce the game on his personal Twitter account, seen above. He also notes that the artwork was drawn by Yusuke Kozaki, who is perhaps best known among Nintendo fans for his character design work on Fire Emblem: Awakening and Fire Emblem: Fates.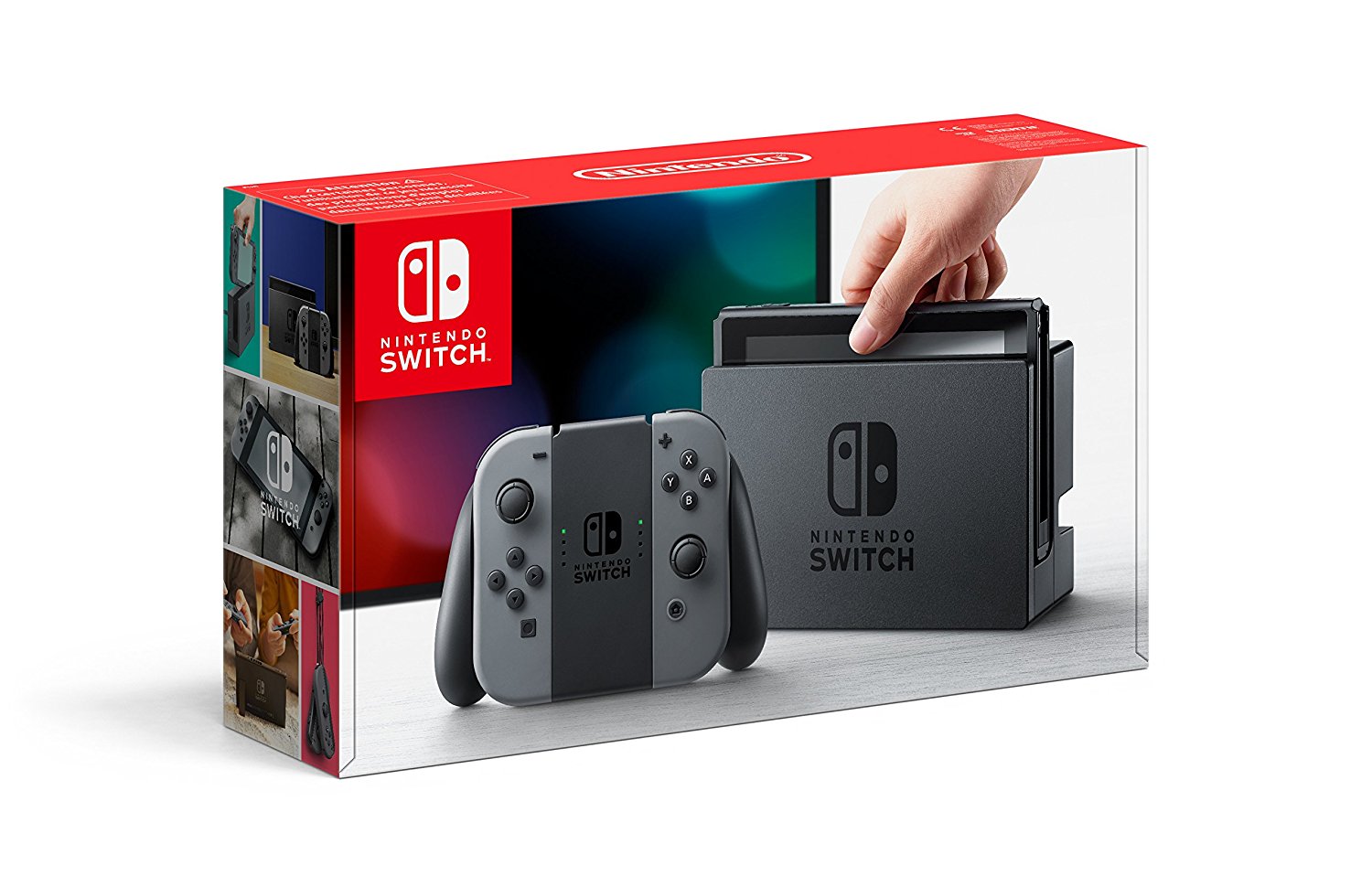 Amazon US has now joined the party of Switch console pre-orders. Get it here. You'll be able to receive the system on March 3.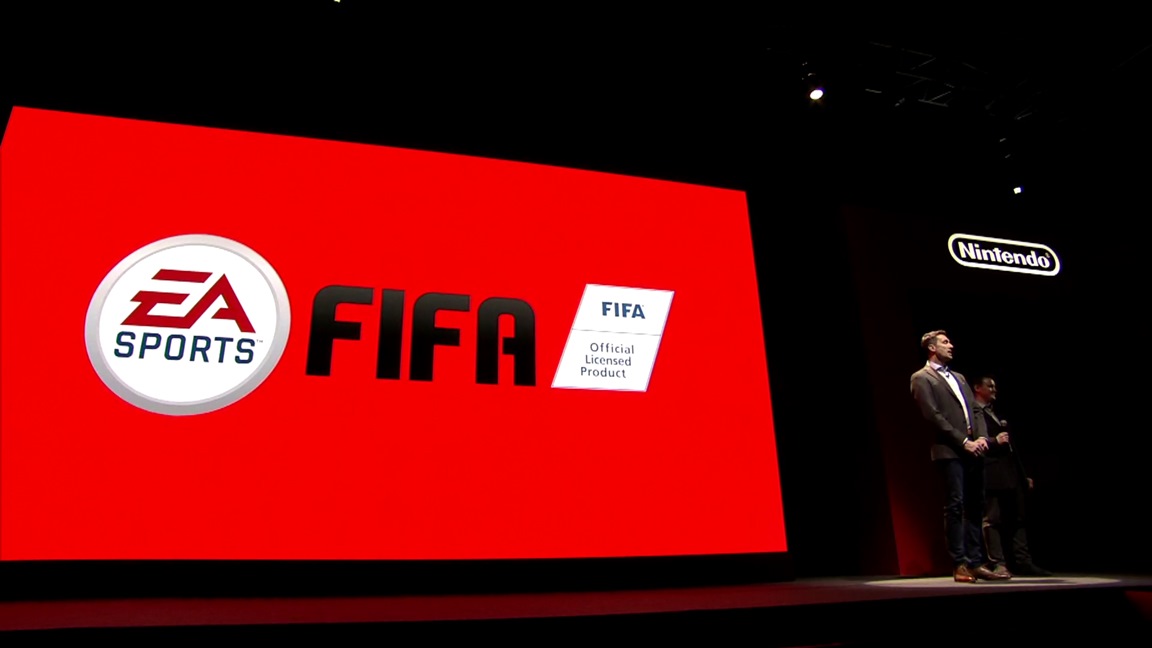 EA has announced that it is developing a new entry in the FIFA series for Switch. Look for it later this year.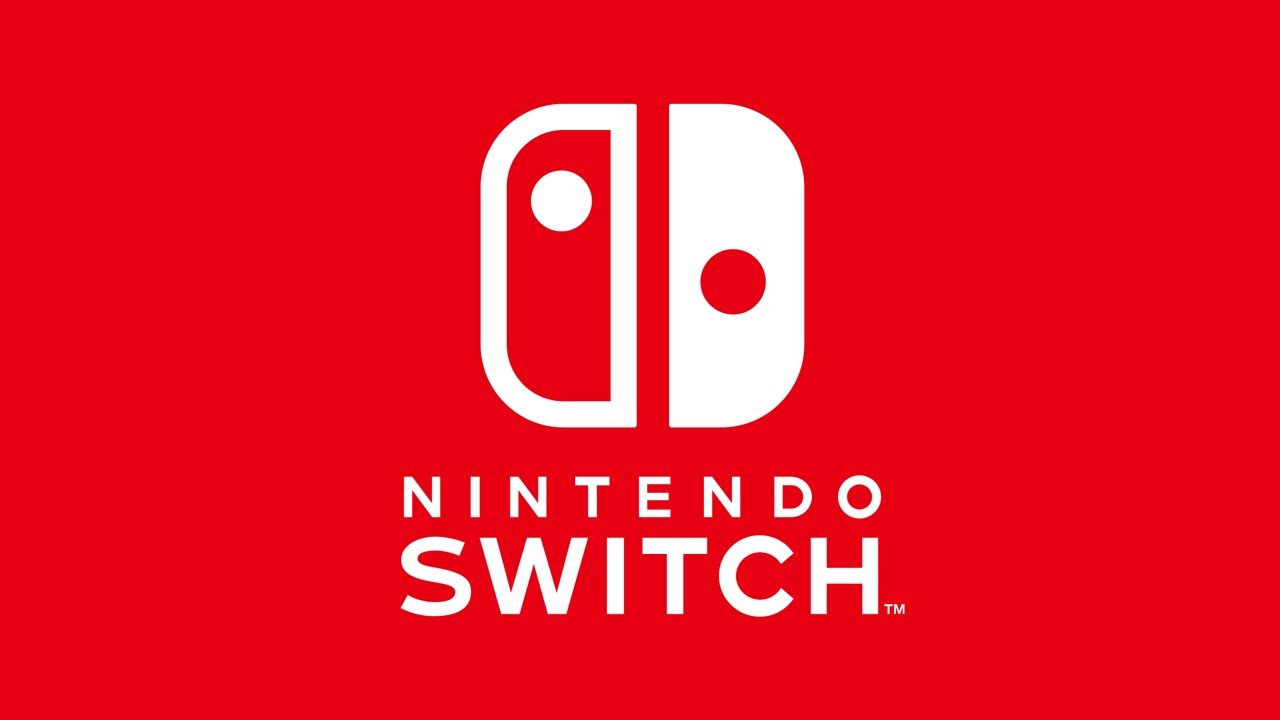 Nintendo shared the first details about its online services today for Switch:
– Can use smart device to invite friends to play online, chat with friends, etc.
– Users can try out service for free at launch
– Paid service this fall
Also revealed today is that all game software will be region free.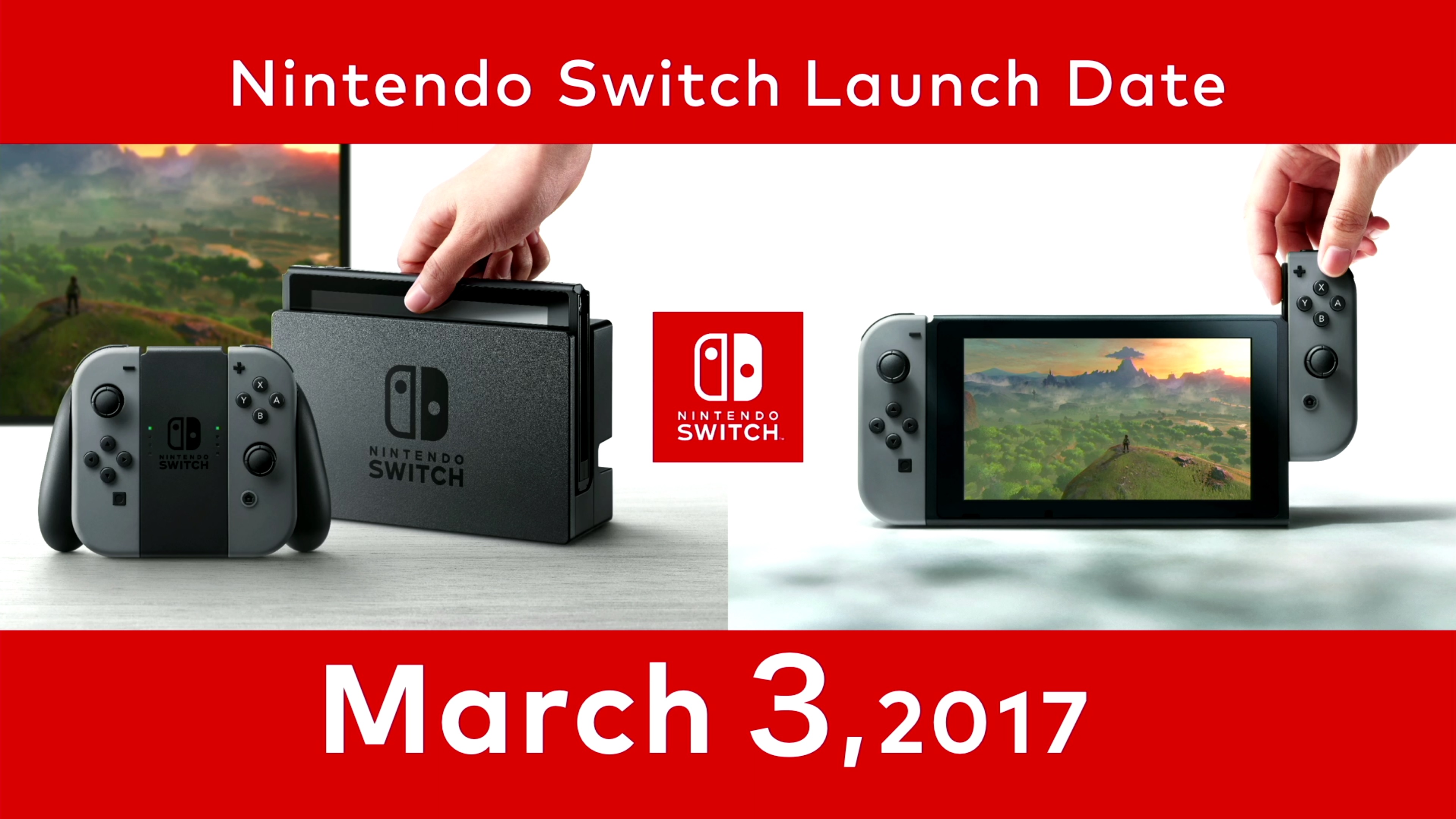 Nintendo announced way back in April 2016 that Switch would be launching worldwide this March. Today, the company finally revealed a final release date.
Switch will arrive in stores on March 3. Pricing is set at $299.99.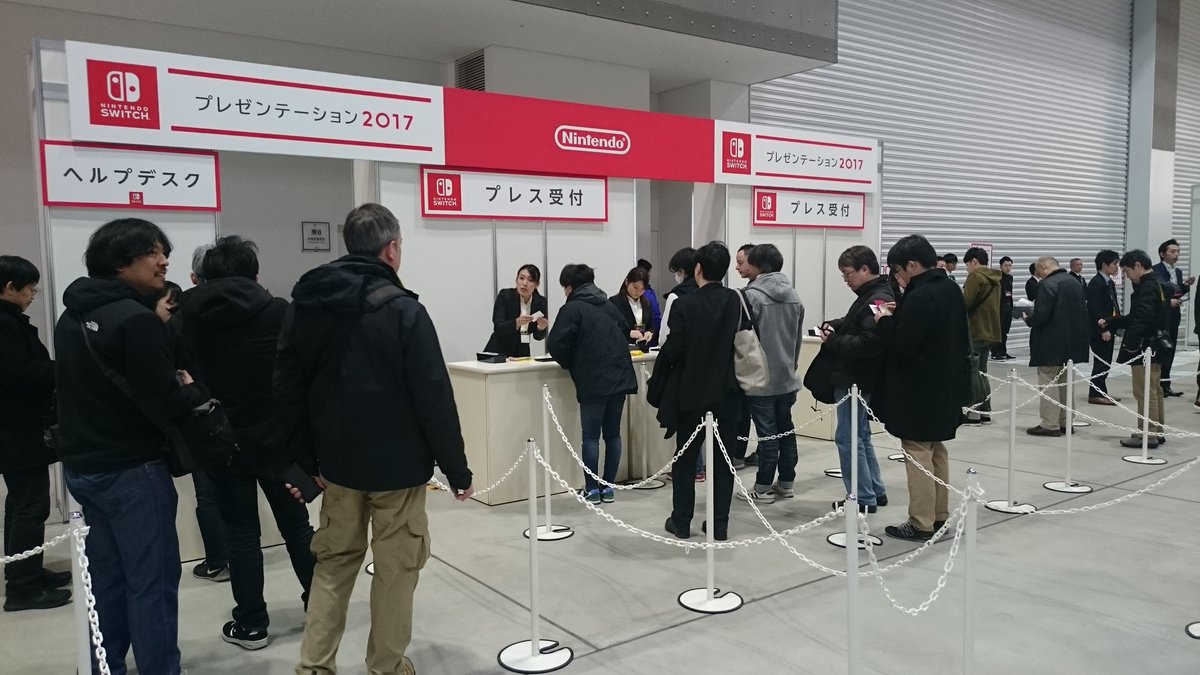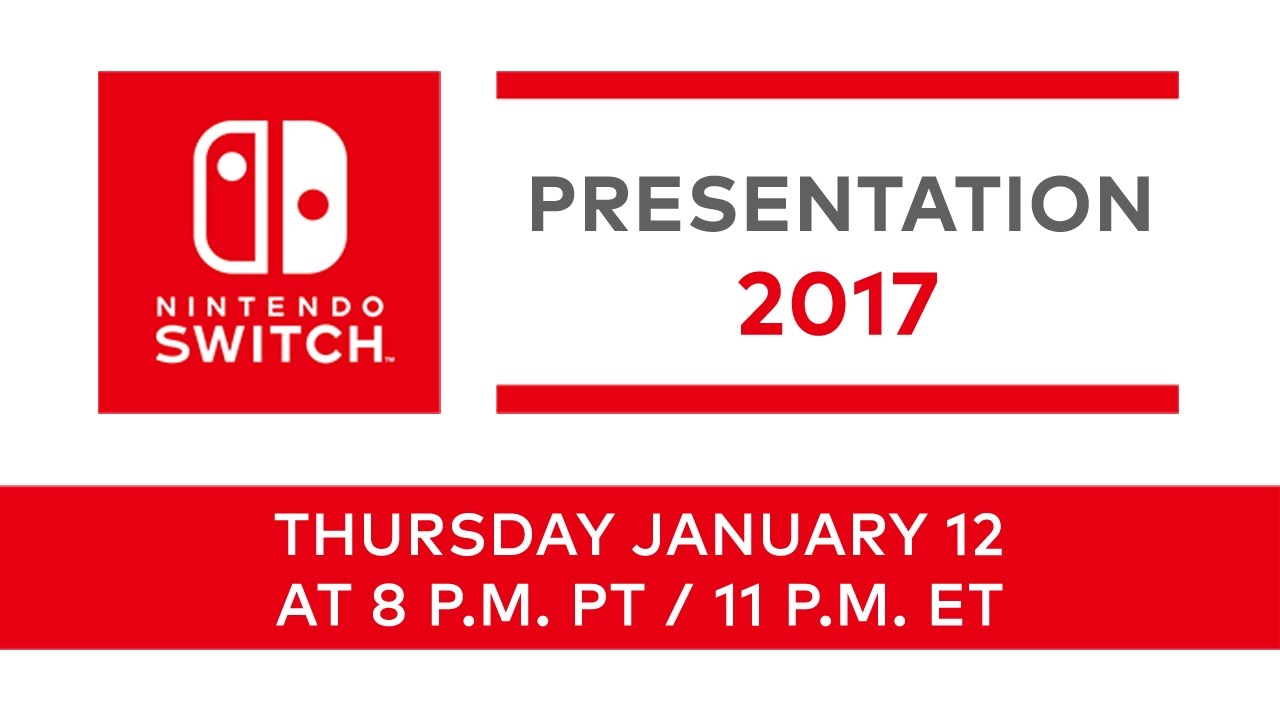 The Nintendo Switch Presentation 2017 is almost here. In just two hours, Nintendo will be kicking off the event. It'll begin at 8 PM PT / 11 PM ET / 4 AM in the UK / 5 AM in Europe.
You can watch the event as it happens with the live stream below. We'll also be posting a live blog below, which Jake will be handling. Any significant news will also be posted separately. Make sure your body is ready!
Hey, it's Jake! Presentation hasn't started yet, but we are seeing the venue on streams! Laser show, DJ, and audience filling up. Times to get hyped!
Countdown has begun! It's now or never! Speed up the music!!
President Kimishima is beginning the event, addressing crowd and everyone watching online.
Launching across the world on March 3rd!
Price: 29980 yen, $299.99, various in Europe
Can connect mobile device to Switch to connect with other users.
Free internet until Fall 2017, at which point it becomes subscription
No region-locking!
Shinja Takahashi, head of Software Development, is now speaking about how the Switch has taken aspects of previous Nintendo consoles
Highlights Switch as a console that can go anywhere, various modes
TV mode: Play with Switch connected to TV
Table mode: stand Switch anywhere and play with
Handheld mode: Keep controllers attached to play like handheld
Battery life, 2.5-6 hours depending on game, charge with USB-C
Up to 8 Switches can connect to each other for multiplayer games
Going over controllers now….
Analog sticks can be pressed like buttons
NFC in Joycon for amiibo
Capture button (on left joycon) lets you share screenshots and, later, video through social media
There are L and R buttons on Joycon controllers
Give other Joycon to friends, call it "Sharing the Joy!" 😀
Joycon color variations, neon-blue and neon-red
Wrist-straps and motion controls, black version of strap will come with console
IR sensor that can detect basic hand movements, sense distance from hand to joycon, and also "HD rumble" that gives sense of realism to Joycon vibrations, such as ice cubes in a glass
First new game showcased: 1-2 Switch
Mini game compilation for multiple players, such as Wild West gun draw
Can be played without any screen, even Switch. Based entirely on feeling and moving Joycons and feedback
Intended to be party game, releases on March 3rd alongside the Switch
Second new game: Arms
intended to have depth and replayablility
Motion controlled
3D fighting game, punch with Joycons and adjust angle to change type of punch or block
Showing fight between two characters, Spring Man and Ribbon Girl
Oh, Spring Man won
Releasing in Spring
Playable local on one screen, with two Switches, and online
New Splatoon: Splatoon 2
New maps, powers, and a second cat like Judd!
New weapon, Splat Duelies, allows for rolls and other movement
Can use Joycons or Pro, can use gyro controls
Can play online, can play locally with multiple Switches
Summer 2017
Super jumping is relegated to X button, can then jump to a teammate by another button
New Mario game:Super Mario Odyssey
MArio in various locations like a giant city, swamp, crystal area, flying around world
Hat throw is new ability, can jump on it, hat is alive!
Landscapes and areas are based on real-world areas
Holiday 2017 release
New game from Monolith Soft: Xenoblade 2
More cartoon/anime than previous titles
From Koei Tecom: Fire Emblem Warriors
Over 80 games in development for Switch from 3rd Party partners
Dragon Quest X and XI already announced, Dragon Quest Heroes I+II coming to Switch
Shin Megami Tensei title coming to Switch
Square Enix title: Project Octopath Traveler
Sega developing, doesn't specify what
Bethesda confirms Skyrim is coming to Switch
Suda51 presenting now, Travis Touchdown (No More Heroes) will be coming to Nintendo Switch, title hasn't been decided
EA now presenting, "world's most popular sports game," FIFA, will be coming to Switch by end of year
Reel highlighting various software now, Minecraft, battle mode in Mario Kart
Switch will include the conosle, left and right joycon, two wrist straps, Joycon, HDMI cable, AC adapter, Grip controller
Two versions of console: one with blue and red joy cons, other with two grey
Nintendo of Europe and America addressing fans, highlighting upcoming events to try Switch
Reggie says six different events will happen before launch to let players test the new system
Breath of the Wild playable at events
New trailer for Breath of the Wild, shows the vast landscape and voiceover
Launching March 3, alongside Switch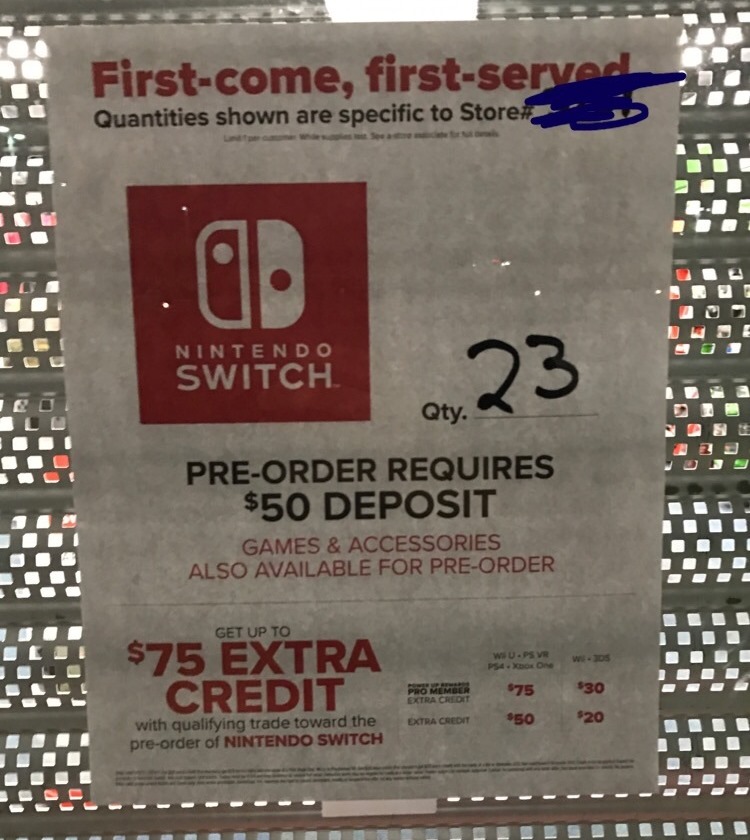 As of tomorrow, GameStop stores will begin accepting pre-orders for Switch. Thankfully, it now looks like various locations are putting up notices indicating how many units they have available. The number should give consumers a better idea about the pre-order situation.